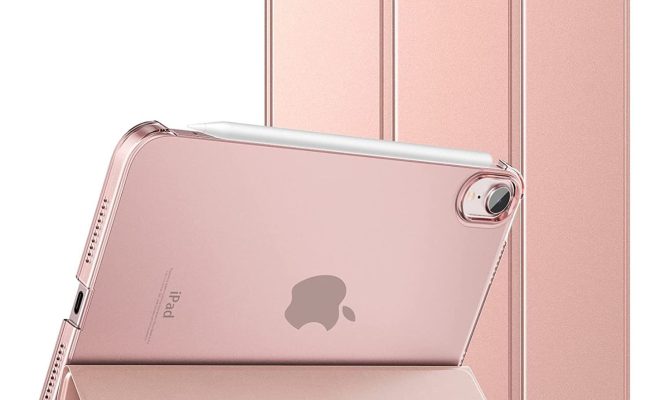 As an iPad Mini owner, finding the right protective case can be a challenge. You want something that will not only protect your device but also look stylish and be easy to carry. With so many options on the market, it can be overwhelming to choose the right one. But we've done the research and found the best iPad Mini case for you.
The Apple Smart Cover is our top pick for the best iPad Mini case. This cover is made by Apple specifically for the iPad Mini and offers a sleek and minimalist design. It attaches to the iPad magnetically, so you don't have to worry about any clunky snaps or zippers. The cover also folds back into a stand, which is perfect for watching movies or typing. The Smart Cover is available in a range of colors, so you can pick one that matches your personal style.
Another great option is the Speck Balance Folio Case. This case offers excellent protection for your iPad Mini with its polycarbonate shell and foam padding. It also has a multi-angle stand for watching videos or typing. What sets the Speck case apart is its stylish designs, which include florals, marble, and even a Star Wars-themed option. The case also has an adjustable strap that makes it easy to hold and carry.
For those who want a more rugged option, the OtterBox Defender Series Case is an excellent choice. This case offers extreme protection with its triple-layer design, which includes a hard polycarbonate shell, foam padding, and a silicone cover. The Defender Series Case is also dust and scratch-resistant and has built-in port covers to keep your device safe. This case may be a bit bulkier than other options, but it's definitely worth it if you need heavy-duty protection.
If you're looking for a case that offers excellent value, the MoKo Case is a great option. This case has a slim and lightweight design but still offers good protection with its TPU shell and microfiber lining. It also has a stand that can be adjusted to different angles, making it easy to watch movies or type. What makes the MoKo case stand out is its affordable price, which is great for those who don't want to break the bank.
In conclusion, there are many great iPad Mini cases on the market, but the Apple Smart Cover, Speck Balance Folio Case, OtterBox Defender Series Case, and MoKo Case are among the best. Each case offers unique features and designs, so you're sure to find one that suits your needs and style. Whatever case you choose, make sure it offers the protection your device deserves.