Parents express concerns as more toddlers switch on tablet computers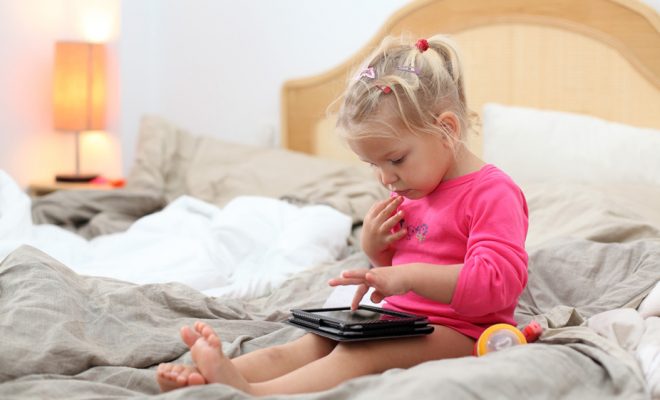 Natalia Kucirkova, Manchester Metropolitan University
Most parents have profound concerns about their children reading digital books on tablets. In a new survey of 1,500 parents of under-eights in the UK about their attitudes to children's use of technology and digital books at home, we found that only 8% have no concerns about them using tablets to read. For using digital media in general, only 16% of parents had no concerns.

By comparing the results with data from a similar survey conducted by the US-based Joan Ganz Cooney Center in 2014, the research also found that parents in the UK and US had different reasons for using or not using digital devices with their children. For example, more American than UK parents said that they use digital media together with their child to ensure they are not exposed to inappropriate content.
Our survey, commissioned by the charity Book Trust, highlighted the various opinions on technology "rights and wrongs" held by British parents. For example, 35% of parents thought that using interactive e-books would mean they lose interest in print books, 26% worried they would affect chidren's attention span, and 14% that it would inhibit their learning.
Parents prefer to read print rather than digital books with their children under eight-years-old, but they do recognise the value of digital books for specific learning situations. The findings indicate that education and literacy charities need to maintain an open dialogue with parents about the various ways families use media.
But there are also key questions around who has access to technology. Another US survey of nearly 1,200 lower-income parents of school-age children and in-depth interviews with Hispanic families in three lower-income communities located in Arizona, California, and Colorado found that although most families (94%) had an internet connection, the access was often too slow, interrupted or from a shared digital device. These profoundly influenced children's educational opportunities.
Strategies for parents
In their recent book, Tap Click Read, chief executive of Joan Ganz Cooney Centre, Michael Levine and journalist Lisa Guernsey recognise the diversity of families and ask the uncomfortable question: what if the differences in technology exacerbate the educational divide between rich and poor?
The authors go on to describe how the use of digital media varies among poor and rich people, but also first-time mothers, tech-savvy parents or immigrant families. The book is accompanied by several video vignettes of programmes and initiatives that hold a promise to offer children equal access to the learning opportunities offered by technology.
The variety of family expectations and motivations concerning children's technology is important for all stakeholders working with young children, including technology producers and policy-makers. So far, the focus of attention has been on the increased access and ownership of technology by young children, notably touchscreens.
A third of under-fives have a tablet
Another recent UK survey of 2,000 families found that 31% of children under the age of five have their own tablet at home. The report of the Tech and Play project at the University of Sheffield recommended that children have access to tablets in schools if they do not have a device at home. The researchers also encouraged development of better-designed apps for toddlers by informing developers about aspects that promote play and creativity.
While the Tech and Play report is based on data from families who already have tablet computers at home, the fact that increasingly young children have access to, and own, various technologies has also been documented in surveys with nationally representative samples.
For example, in the UK, the 2015 Ofcom survey reported that 71% of five to 15-year-olds have access to a tablet device at home. In the US, Common Sense Media reported the rising trend in 2013, with the finding that children aged eight-years-old and under were five times more likely to own a tablet compared than in 2011.
The extent to which young children, especially those under the age of two, can actually learn and benefit from tablets' use is currently being heavily debated by the American Association of Peadiatrics (APA), with an updated guidance due to be issued in autumn 2016.
Whatever the APA recommendations, family culture and parents' perceptions profoundly shape the strategies they employ to support children's actual technology use. With tablets and toddlers in particular, it is not just about who has access to what, but also about what parents think is important for their child.
But we need to urgently develop strategies to address the profound inequality gaps when it comes to using technology.
Natalia Kucirkova, Senior lecturer, Manchester Metropolitan University
This article was originally published on The Conversation. Read the original article.