Soundbar vs. Speakers: Which TV Audio System is Best For You?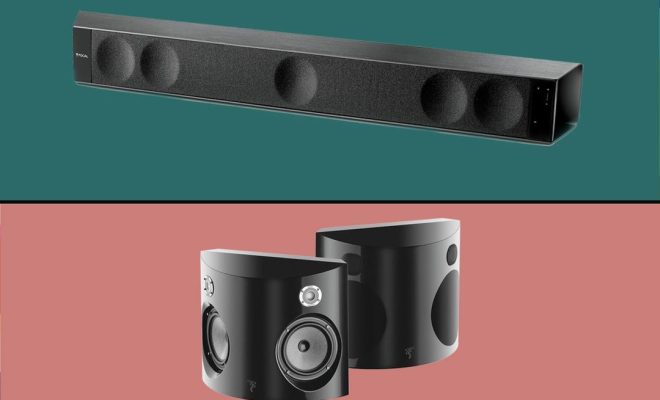 Choosing the audio system for your TV can be a challenging task, especially if you're not familiar with audio equipment. With a plethora of audio options available in the market, it can be tough to decide what works best for you. Two popular options are soundbars and speakers. Here we take a closer look at each option and help you decide which audio system is best for your TV.
Soundbars
Soundbars are a great way to improve the audio quality of your TV without the need for a full home theatre system. These devices are compact and easy to install, making them a popular option for many households. Soundbars come in different sizes and shapes, with various features and pricing options. Most soundbars have a built-in amplifier, and some even come with additional features like Bluetooth connectivity, Wi-Fi, and voice recognition. Soundbars are compatible with most TVs, and they're an excellent option for people who live in small apartments or have limited space.
The advantages of soundbars are:
– They're easy to install.
– They're affordable.
– They provide better audio quality than built-in TV speakers.
– They don't take up much space.
However, there are some downsides to soundbars. For example, they don't provide the same level of audio quality that a full home theatre system does. Additionally, soundbars may not be suitable for larger rooms where the sound needs to be projected to a sizable audience.
Speakers
Speakers are an entirely different ball game. These audio systems come in many different forms, including bookshelf, floor-standing, and in-ceiling. Speaker systems provide precise sound imaging and channel separation that can create an immersive audio experience. They also project sound over a distance, ensuring everyone in the room can hear the audio clearly.
The advantages of speakers are:
– They provide a superior audio experience.
– They project sound over a distance, making them ideal for larger rooms and audiences.
– They produce better sound quality than most soundbars.
The downsides of speakers are:
– They can be bulky.
– They're more expensive than soundbars.
– They require a certain level of expertise for installation.
– They may not be compatible with all TV models.
Which one should you choose?
The choice between a soundbar and speakers depends on your budget, listening preferences, and the characteristics of your particular setup. For those who want an affordable solution that improves the audio quality of their TV, soundbars are an excellent option. However, if you're looking for a superior audio experience and have a larger budget to work with, speakers are your best bet. Just keep in mind that speakers require more space and expertise to install, and they may not be suitable for all TV models.
In conclusion, the choice between a soundbar and speakers comes down to your individual preference and budget. Both options have their advantages and disadvantages, and you'll need to carefully evaluate your requirements before deciding on one. Evaluate your space, budget, and listening preferences to determine which option suits you the best.