Reimagining and Transforming Educational Learning Environments in Higher Education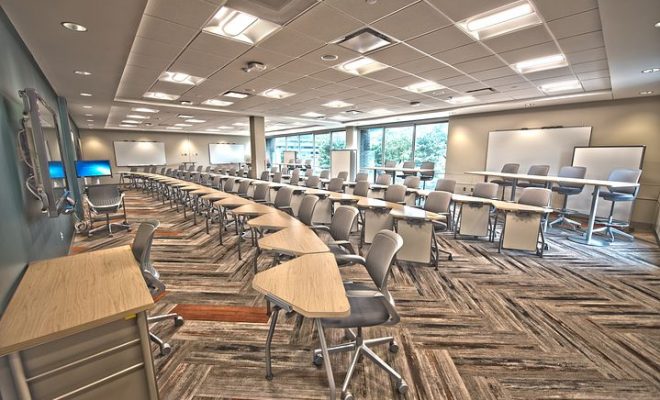 If there is one institution in America that is resistant to change, it just might be higher education. After all, they still wear their medieval clothing once each year—as graduation robes. It's surely a challenge to reimagine and transform higher education, but there are several emerging trends in edtech that might positively impact what happens on America's college campuses—and beyond.
First, the maker movement is poised to impact higher education in a big way. While the movement has its roots in adult hobbyists and has seen some adoption in elementary and secondary schools, it has been slower to gain a foothold as an official aspect of college campuses. But changing that could yield large advantages. Maker spaces at colleges could be the "missing link" between the educational world and the professional world if they allow students to see the relationship between what they are learning in the classroom and what they will need to do on the job.
Second, with online classes increasing at a rapid rate, it's time to rethink learning management systems. The ones currently in use are rather limited and often squelch deeper learning. In the future, LMS (Learning Management Systems) will need to create more venues for personalized learning via easy integration with a wide variety of other digital platforms. Further, very few instructors have been able to use formative assessments in online classes in an effective way—as a driver of future instructional practices.
Third, LMS (Learning Management Systems) aren't the only issues with online classes that need to be addressed. It seems that some colleges are using their online students to bankroll their brick-and-mortar operations while providing subpar experiences to their online students. Unfortunately, this is an example of "reimagining" education that shows the perils that edtech makes possible. Part of a more pro-social reimagining will require a unified effort to ensure that students taking advantage of distributed learning opportunities are not shortchanged by the very technologies that make their programs possible.
On the one hand, the revolution in edtech makes the future of higher education bright almost beyond belief, as open educational resources and nearly infinite instructional materials show promise in improving instruction. Underfunded colleges have more opportunities to provide top-notch instruction than ever before. On the other hand, the history of edtech suggests caution, for the promise comes with risks as well. Stakeholders will need to collaborate to ensure that students truly benefit from the reimagined 21st-century university.