RDP vs. VPNs: What's the Difference?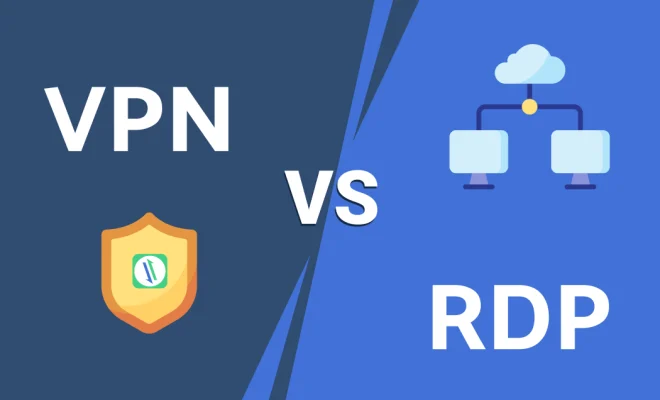 In today's fast-paced world, remote access to data and systems is becoming increasingly important. A remote connection is a necessity not only for companies with employees working in different locations but also for businesses that require certain employees to be accessible through remote means. Two of the most common remote access technologies are Remote Desktop Protocol (RDP) and Virtual Private Networks (VPNs).
When it comes to remote connections, both RDP and VPNs have different functionalities that make them ideal for various situations. Let's explore these technologies and their differences.
Remote Desktop Protocol (RDP)
RDP is a feature built into Microsoft Windows that allows a user to connect to a remote computer and use it just as if they were sitting directly in front of it. When a user connects to a remote system using RDP, the remote system's desktop is displayed on the user's local screen, giving the impression that they are using the remote system locally.
RDP is ideal for companies with a lot of Windows-based systems, as it requires a single Windows machine to act as a host or server. This enables RDP to be integrated into a company's existing infrastructure easily.
However, one of the main drawbacks of RDP is that it allows access to the entire remote computer, which can result in security risks if the remote computer is infected with malware or contains sensitive information that shouldn't be accessed. Another issue with RDP is that it's only available for Windows-based systems.
Virtual Private Networks (VPNs)
A VPN is a network technology that provides a secure and encrypted connection over the Internet. The main function of a VPN is to enable users to access a private network from a remote location securely. With VPN, a user can access files and websites that are blocked in their current geographic location, as if they were connected directly to the private network.
VPNs have many advantages over RDP since they don't require a specific operating system to work. VPNs are also much more secure than RDP because they provide users with encrypted and secure access to the network. This guarantees that data transmitted between the remote user and the network's server is encrypted, protected from unauthorized access, and stored on the server.
The downside with VPNs is configuring and setting them up can be a bit more complex than RDP. Additionally, network capacity and bandwidth must be taken into account, as this can impact the speed and performance of the VPN considerably.
In Conclusion
In conclusion, selecting between RDP and VPNs generally depends on the specific requirements of the user and the organization. If employees need to access files and data from remote locations, VPN may be a better option; however, if employees need to operate specific applications on a remote desktop, RDP is the way to go.
While both remote access technologies provide remote access to a network or system, VPNs offer more secure and versatile options, while RDP is more straightforward to set up and use. Therefore, it is essential to assess all options and determine which method is best suited for your organization's needs.