NFC vs Bluetooth: What's the Difference?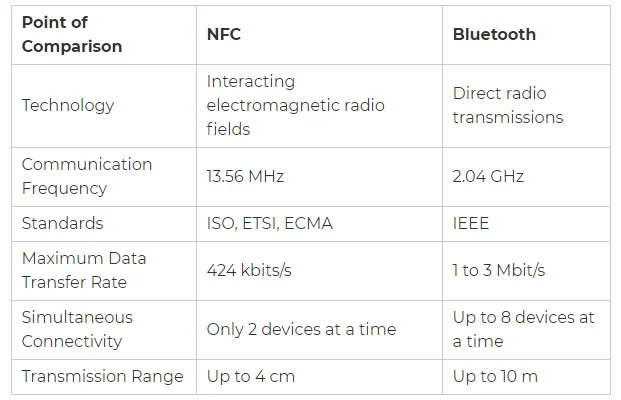 As we rely more and more on technology, we increasingly turn to devices to make our lives easier. Two such technologies that have grown in popularity are Near Field Communication (NFC) and Bluetooth. Both have similar functions, but there are significant differences between the two. In this article, we'll explore NFC vs. Bluetooth, explaining what they are and how they differ.
First, let's talk about Bluetooth. Bluetooth allows for wireless communication between devices over short distances, typically a few meters, using radio waves. It was originally created to eliminate the need for cables, and it has since become an important technology for connecting devices such as speakers, smartphones, and laptops. Bluetooth allows for reliable data transfer and can also be used for audio streaming and control, making it ideal for use in homes, cars, and public spaces.
On the other hand, NFC is a contactless communication technology that allows for wireless transfer of data between two devices in very close proximity, typically within a few centimeters. NFC technology requires one active and one passive device to communicate, and the passive device can be a smart card, a smartphone, or another electronic device that is powered by the NFC technology. NFC can be used for a variety of functions, such as mobile payments, data transfer, and security access.
One key difference between NFC and Bluetooth is their range. As we've mentioned, Bluetooth typically has a range of a few meters, though some devices may increase the distance with specialized transmitters. NFC, on the other hand, only works over distances of a few centimeters. This makes NFC ideal for secure transactions, while Bluetooth is ideal for larger data transfers and streaming.
Another significant difference between the two technologies is the amount of power they require. NFC-enabled devices typically use very little power, allowing them to be powered by small batteries or even passive energy sources. Bluetooth, on the other hand, requires a more robust power source to transmit larger amounts of data over greater distances.
Finally, there is a difference in how the two technologies are used. Bluetooth is well-suited for a wide range of applications, such as audio streaming, file transfers, and wireless control. NFC, on the other hand, is best suited for use in secure transactions, such as mobile payments or secure access control. In conclusion, while both NFC and Bluetooth have similar functions, they are designed for different purposes. NFC is ideal for secure transactions, while Bluetooth is better suited for streaming audio and transferring larger amounts of data over greater distances. Whether you need NFC or Bluetooth depends on what you need to accomplish, but it's clear that both technologies have a role to play in the future of wireless communication.