Hulu vs. YouTube TV vs. Sling TV vs. DirecTV Stream channels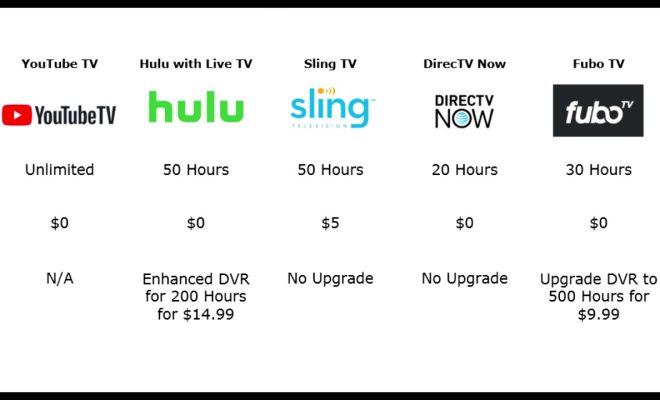 In the world of streaming television, there are several different services to choose from. Among the most popular are Hulu, YouTube TV, Sling TV, and DirecTV Stream. Each service offers a unique set of channels and features, so it's important to understand what you're getting with each option.
Hulu Live TV
Hulu Live TV offers over 75 channels, including local network channels like ABC, NBC, CBS, and Fox, as well as a selection of cable channels like CNN, ESPN, HGTV, and TNT. The service also includes access to Hulu's extensive library of on-demand content, which includes popular TV shows, exclusive Hulu originals, and movies. Users can access Hulu Live TV on a variety of devices, including smartphones, tablets, smart TVs, and streaming devices. Hulu Live TV is also one of the less expensive options, with plans starting at just $64.99 per month.
YouTube TV
YouTube TV is another popular option, with over 85 channels to choose from. Like Hulu Live TV, they offer local network channels, as well as cable channels like AMC, Discovery, and FX. They also include access to YouTube's original programming. One of the standout features of YouTube TV is unlimited DVR storage, which allows users to record as many shows as they want and keep them for up to nine months. YouTube TV is one of the more expensive options, with plans starting at $64.99 per month.
Sling TV
Sling TV offers a unique approach to live TV streaming. They allow users to choose from two basic packages, Sling Orange and Sling Blue, which both cost $40 per month. Sling Orange includes channels like ESPN and Disney, while Sling Blue includes channels like TNT and CNN. Users can also customize their package by adding additional channels, such as HBO or Starz, for an additional fee. Sling TV is one of the more customizable and affordable options, but it may not have all the channels you want.
DirecTV Stream
DirecTV Stream, formerly known as AT&T TV, is a more traditional cable TV alternative. They offer a variety of packages, ranging from the basic Entertainment package, which includes over 65 channels, to the Premier package, which includes over 140 channels. DirecTV Stream also includes access to thousands of on-demand titles and comes with a free DVR that can record up to 20 hours of content for free. However, it is one of the more expensive streaming options, with the Entertainment plan starting at $69.99 per month. In conclusion, each streaming service offers its own unique set of channels and features, and it's important to consider your individual needs when making a decision. Hulu Live TV and YouTube TV both offer strong channel lineups and on-demand content, while Sling TV is a more customizable and affordable option. DirecTV Stream provides a more traditional cable TV experience, but at a higher cost. Ultimately, the choice comes down to personal preference and budget. Consider your favorite channels, your budget, and your streaming device before making a decision on which service to subscribe to.