How to Unfreeze a MacBook Air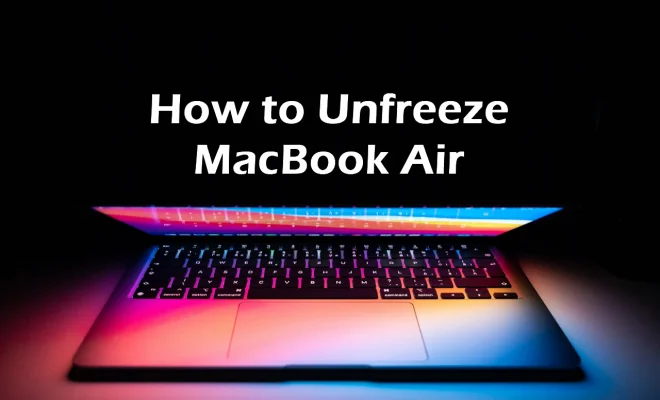 A MacBook Air is an excellent device that offers a lot of features and usability to its users. However, like all electronic devices, it can freeze at times, which can be frustrating for users. When the MacBook Air freezes, it becomes unresponsive and fails to respond to keyboard or mouse inputs. Fortunately, there are several steps that you can take to unfreeze your MacBook Air. In this article, we will guide you through how to unfreeze a MacBook Air.
Step 1: Identify the Cause of the Freeze
The first step in unfreezing your MacBook Air is to identify why your device froze. There are several reasons why your MacBook Air can freeze, including an overloaded processor, a problem with the software, and hardware problems. Some of the common causes of a MacBook Air Freeze include having too many applications running, an outdated operating system running, and issues with a peripheral device connected to the device.
Step 2: Force Quit the Application
The next step in unfreezing your MacBook Air is to force-quit the application that is causing the freeze. To do this, press and hold the "option" key on your keyboard and click on the Apple icon in the upper left corner of your screen. A drop-down menu will appear, and you should select "Force Quit." This will bring up a list of applications that are currently running. Select the application that is causing the freeze and click on "Force Quit."
Step 3: Restart Your MacBook Air
If force quitting the application does not work, the next step is to restart your MacBook Air. To do this, press and hold the power button until your MacBook Air shuts down. Wait a few seconds, and then press the power button again to turn your MacBook Air back on. This should restart your MacBook Air and resolve any freezing issues you were experiencing.
Step 4: Update Your Operating System
If your MacBook Air is still freezing even after force quitting and restarting, then the next step is to check if your operating system is up to date. To do this, go to the Apple menu and select "System Preferences." From there, select "Software Update" and see if there are any available updates. If there are updates available, download and install them.
Step 5: Check for Hardware Issues
If your MacBook Air is still freezing, the problem may be due to a hardware issue. Check all the peripheral devices that are connected to your MacBook Air and disconnect them. Turn off your MacBook Air and then turn it back on. This is done to see if the peripheral device was the cause of the freeze. If the issue is still present, then there may be a hardware fault, and it is recommended to contact a professional technician for further diagnosis and repair.
Conclusion
Mistakes do happen, and your MacBook Air may freeze at some point, and when that happens, it can be frustrating. However, you do not need to let the freeze bring you down. By following the steps outlined above, you can easily unfreeze your MacBook Air and resume your work or entertainment in no time. Remember, if the problem persists, it is advisable to seek professional assistance.