How to Reset Network Settings on Android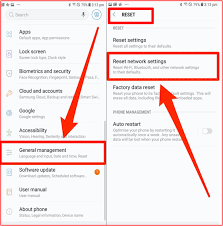 If you're experiencing network issues with your Android device, one way to fix the problem is by resetting your network settings. This process can wipe out any network-related problems that are causing connection issues, like slow or lost Wi-Fi connections, mobile data troubles, or Bluetooth connectivity problems. In this article, we'll take a closer look at how to reset network settings on Android.
Step One: Open Your Settings
To reset your network settings on your Android device, the first step is to open your Settings. This can be done by tapping the Settings icon in your app drawer, or by pulling down the notification shade and tapping the gear icon.
Step Two: Find the Reset Network Settings Option
In your Settings menu, scroll down to the System section and tap on the option that says "Reset." Next, select the option labeled "Reset Network Settings." Depending on your device, you may need to enter your device password or PIN to proceed.
Step Three: Confirm the Reset
Once you've selected the "Reset Network Settings" option, you'll be asked to confirm the operation. Android will tell you that all network-related settings, including Wi-Fi networks, mobile data settings, Bluetooth connections, and even VPN settings, will be deleted. If you're sure about proceeding, tap on the "Reset Settings" button to confirm.
Step Four: Wait for the Reset to Finish
Once you've confirmed the reset, your Android device will start wiping out all network settings. This process usually takes a few seconds and may result in your device rebooting. Avoid using your phone until the reset is complete.
Step Five: Reconnect to the Internet
After your Android device has successfully reset its network settings, you'll need to reconnect to the internet. You'll notice that your Wi-Fi connection, mobile data connection, and Bluetooth connections are now missing. You'll need to set them up again to use them.
To connect to Wi-Fi, tap on the "Wi-Fi" option in your Settings menu and select your Wi-Fi network. Enter the network password, and you should be able to connect.
For mobile data, your Android device should automatically connect to your carrier's data network after the reset. If not, you can set up mobile data manually by going to "Mobile Networks" in your Settings menu.
If you use Bluetooth devices, you'll need to pair them again by going to the Bluetooth menu in Settings and selecting the device you want to connect.
Conclusion
Resetting your network settings can help resolve network issues and improve your device's connectivity. If you're experiencing any problems related to your Wi-Fi, mobile data or Bluetooth connections, try resetting your Android's network settings using these simple steps. By doing so, you'll be able to restore all network-related settings to their default state, allowing you to reconnect and start using your device without any issues.