How to Position Wi-Fi Router Antennas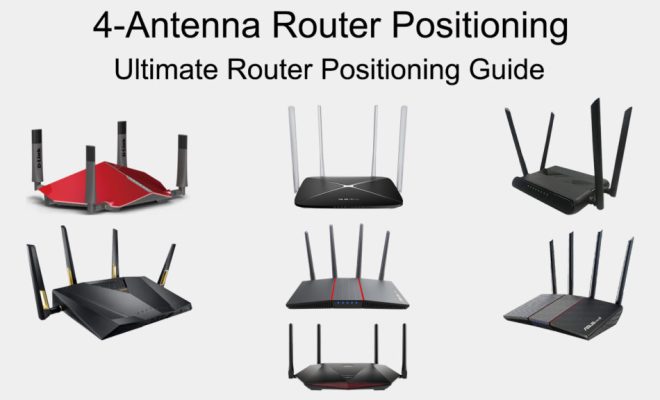 Router antennas play a vital role in extending the Wi-Fi signal range and coverage. It is essential to position the router antennas correctly to maximize their performance potential. Whether you are using an omnidirectional or directional antenna, here are some tips on how to position router antennas for optimal signal strength and coverage:
1. Consider the antenna type:
The type of antenna you are using determines its directional characteristics. An omnidirectional antenna radiates the Wi-Fi signal in all directions, while a directional antenna focuses the Wi-Fi signal in a specific direction. Depending on your home's layout and the location of your devices, you may need to experiment with different antenna types to determine which one works best for you.
2. Position the router centrally:
Try to position your router centrally in your home or office for optimal coverage. This way, the Wi-Fi signal will radiate equally in all directions, providing the best possible coverage throughout your home or office.
3. Aim the antennas to cover the areas you want:
If you have an omnidirectional antenna, try to aim the antennas towards the areas where you want the strongest Wi-Fi signal. For example, if you want the strongest signal strength in your living room, aim the antennas towards that area. Directional antennas should be pointed directly at the devices you want to connect to the Wi-Fi network.
4. Adjust the angle of the antennas:
The angle of the antennas can also affect the Wi-Fi signal's range and strength. Try to adjust the angle of the antennas and experiment with the positions until you find the best setting for your needs. A 45-degree angle is generally a good starting point.
5. Avoid interference:
Make sure the router and antennas aren't too close to other electronic devices that can interfere with the Wi-Fi signal, such as microwaves, cordless phones, or Bluetooth devices. The more unobstructed the signal, the better the coverage will be.
6. Consider vertical versus horizontal positioning:
If you are using an omni-directional antenna, consider positioning it vertically or horizontally, depending on your needs. Vertical positioning generally provides better coverage in multi-story buildings, while horizontal positioning is better for single-story homes.
In conclusion, positioning your router antennas correctly can help you to maximize your Wi-Fi signal's range and strength. Experiment with your antennas' location and angle until you find the optimal settings for your needs. With a little effort, you can enjoy reliable internet connectivity throughout your home or office.