How to Make a Night Vision Potion in Minecraft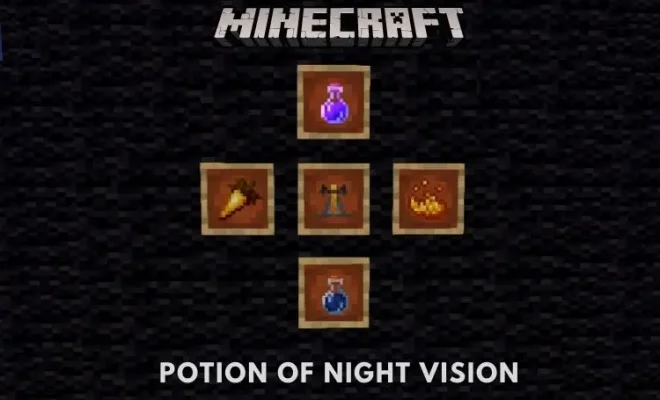 Minecraft is a game that encourages creativity and exploration. Players can build structures and invent items to help them survive and thrive in the virtual world. One item that players may wish to create is a night vision potion. This potion will give the player the ability to see in the dark, which can be incredibly useful when navigating underground caves or exploring at night.
Here is a step-by-step guide on how to make a night vision potion in Minecraft:
Step 1: Gather Your Ingredients
To make a night vision potion, you will need:
– Nether Wart
– Golden Carrot
– Water Bottle (x3)
– Blaze Powder
You can obtain nether wart by exploring the Nether dimension of the game. Golden carrots can be crafted from gold nuggets and carrots. And you can easily obtain water bottles by filling empty bottles with water sources. Finally, Blaze Powder can be obtained by destroying Blazes in the Nether.
Step 2: Brew the Potion
Once you have your ingredients, it's time to brew the potion. First, place the water bottles in the brewing stand. Then, add the nether wart to the top slot of the stand. The nether wart will turn the water bottle into Awkward Potion. After that, add the golden carrot to the top slot. This will turn the awkward potion into an inverted potion of night vision.
Step 3: Add the Blaze Powder
The final step is to add Blaze Powder to the inverted potion of night vision. This will turn the potion into a night vision potion. Add the powder to the bottom slot, and wait for the brewing process to finish.
Step 4: Drink the Potion
Once the potion is complete, it is time to drink it! Right-click on the potion to consume it, and you will have night vision for 8 minutes. You will notice that your screen becomes brighter, and you can see in the dark. This can be incredibly helpful for exploring caves, finding resources, and even fighting off monsters.
In conclusion, making a night vision potion in Minecraft is easy and fun! It's a great item to have in your collection, as it can be incredibly useful. You can explore the depth of caves, travel through the night, and discover new things with ease. So, gather your ingredients, brew the potion, and enjoy the benefits of night vision in Minecraft!