How to Fix the Clock Watchdog Timeout Error in Windows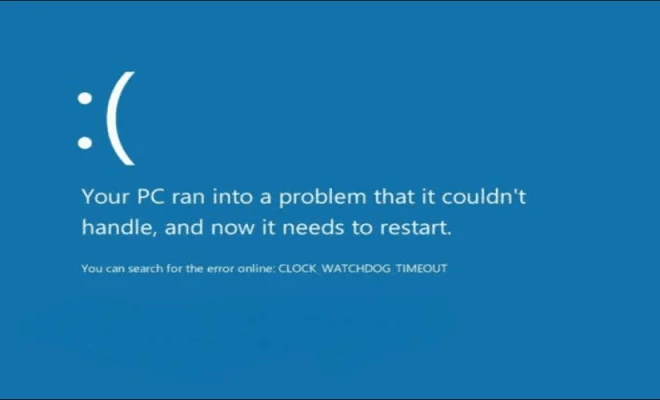 If you're experiencing the infamous "Clock Watchdog Timeout Error," it's likely that you're panicking and searching for answers on how to fix this problem. Luckily, there are a few methods you can try to get rid of this pesky error.
First, let's understand what the Clock Watchdog Timeout Error is. This error occurs when the processor is unable to communicate with one of the computer's cores, leading to a system lock-up. This can happen due to various reasons such as a driver issue, hardware failure, or outdated software.
Here are some methods to help you fix the Clock Watchdog Timeout Error on Windows:
Method 1: Update Drivers
One of the most common causes of the Clock Watchdog Timeout Error is outdated or corrupted drivers. To update your drivers, go to Device Manager, find the problematic device, and right-click on it. After that, select "Update Driver" and let Windows install the latest driver version.
Method 2: Run System File Checker
System File Checker (SFC) is a built-in tool in Windows that scans for corrupted system files and replaces them with correct ones. To run SFC, open Command Prompt as an administrator, type "sfc /scannow" and hit Enter. Wait for the scan to complete and reboot your computer.
Method 3: Check Hardware
Hardware failure can also cause the Clock Watchdog Timeout Error. To check for hardware issues, you can run a System Diagnostic test. Navigate to Control Panel > Administrative Tools > Windows Memory Diagnostic. Follow the instructions to run the diagnostic test and check for any hardware errors.
Method 4: Check for Overheating
Overheating can also cause the Clock Watchdog Timeout Error. Your computer may be getting overheated due to a malfunctioning cooling system or dusty fans. You can use third-party software to monitor your computer's temperature and fans or clean your computer's internal components to fix this issue.
Method 5: Perform a Clean Install of Windows
If none of the above methods work, you may need to perform a clean install of Windows. This method will erase all your data and applications, so make sure you back up everything beforehand. Create a bootable USB with the latest version of Windows, boot from the USB, and follow the instructions to install a fresh copy of Windows.