How to Create Spreadsheet Templates in Excel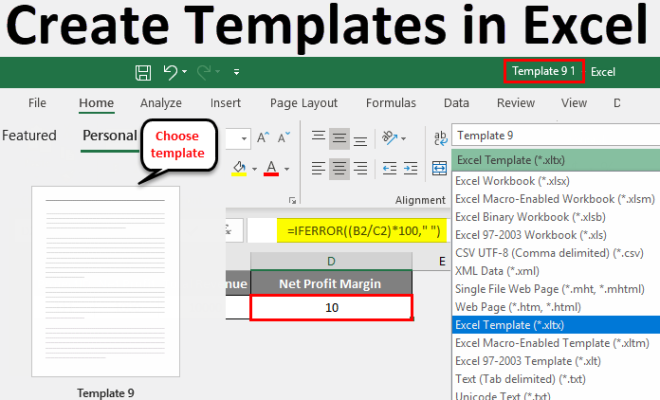 Excel is an essential tool that businesses and professionals use in daily work. Excel spreadsheets are used for record-keeping, data analysis, and storing useful information. However, creating a spreadsheet from scratch can be time-consuming, especially if you need to create similar formats regularly.
Fortunately, Excel has a feature that allows users to create spreadsheet templates, saving time, and ensuring consistency in your work. In this article, we'll guide you through the process of creating spreadsheet templates in Excel.
Step One: Determine the Purpose of the Template
Before you start creating your template, you need to determine its purpose. Ask yourself, "What kind of data is going to be entered into this template?" Understanding this will help you determine which cells and formatting will be necessary.
Step Two: Open a New Workbook
Open Excel and select 'New Workbook.' You will land on a blank spreadsheet. This is where you will create your template.
Step Three: Add Labels and Formatting
The next step would be to format your data accordingly. Select the cells you want to change and click on 'Home' in the top menu. You can change the font type, size, and color, merged cells, and even add borders around cells. Choose formatting that aligns with the purpose of the template.
Step Four: Input Sample Data
Once you have formatted your worksheet, input sample data into your template. It's essential to test your sheet for formulas and data validation, as errors in your template can cause long-term damage to your data.
Step Five: Save Your Template
After creating your template, and you're satisfied with how it looks and works, save it as a template file. Go to 'File', click 'Save As,' select 'Excel Template,' and choose a name for the template. The template will now be saved and ready to use.
Step Six: Test Your Template
After saving your template, it's essential to test it by inputting real data to ensure it's working as intended.
In conclusion, creating a spreadsheet template can help you save time and eliminate the tedious work of recreating the same sheet repeatedly. With Excel's template feature, you can create a custom-designed template that aligns with your data for consistent results. Follow these steps to create your own spreadsheet templates and work smarter in Excel.