How to Connect Your Android Phone With a Flash Drive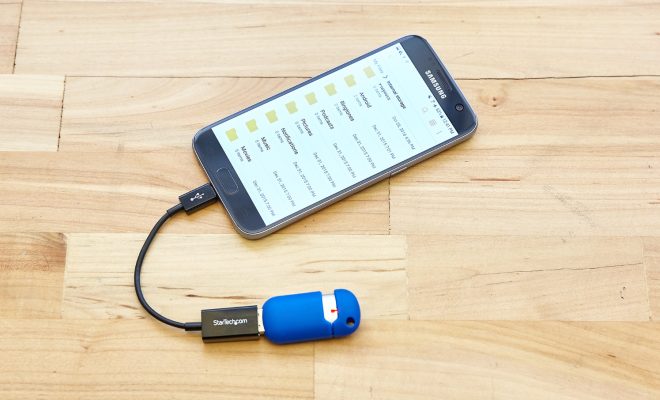 It's an exciting experience to have a mobile device with excellent specs and storage. However, no matter how much storage your Android phone may have, you will inevitably run out of space as you accumulate more data. Fortunately, you can connect a flash drive to your Android phone and expand your storage capacity effortlessly. Here is a guide on how to connect your Android phone with a flash drive.
Step 1: Ensure Your Phone Supports USB OTG
The first step is to verify whether your phone supports USB On-The-Go (OTG) functionality. This feature allows your device to communicate with other USB devices, such as flash drives. The easiest way to check if your phone supports OTG is to connect a USB keyboard or mouse to it using a USB OTG cable. If they work as expected, your smartphone supports USB OTG.
Step 2: Get a USB OTG Cable or Adapter
If your phone supports USB OTG, the next step is to buy a USB OTG cable or adapter. An adapter is a device that allows you to connect a standard USB cable to your phone's charging port. On the other hand, an OTG cable has a standard USB port on one side and a micro USB port on the other.
Step 3: Connect the USB OTG Cable or Adapter to Your Android Phone
After getting a USB OTG cable or adapter, plug it into your smartphone's micro USB port. Ensure that the connection is tight and that your phone properly recognizes the device. Android will show a pop-up asking what you want to do with the connected device.
Step 4: Connect Your Flash Drive
Now, it's time to connect your flash drive to the other side of the USB OTG cable or Adapter. Once you plug the flash drive in, Android should detect it and provide options on how to use it, such as file transfer or viewing the files on the drive.
Step 5: Transfer or View Files
With the flash drive connected to your phone, you can transfer files from your device to the drive or view files saved on the flash drive. Some Android devices might require that you download a file manager app to access the flash drive's files.
Step 6: Safely Eject the Flash Drive
After transferring or viewing files, ensure to safely eject the flash drive from your phone. If you unplug the flash drive abruptly, you risk losing data or damaging the device. Android has a feature that allows you to unmount the flash drive correctly. Pull down the notification bar and tap on 'Safely remove USB storage.'
Conclusion
Connecting your Android phone to a flash drive is simple and enables you to expand your storage capacity without much hassle. Ensure to double-check if your phone supports USB OTG and purchase a USB OTG cable or adapter if it does. Connect the flash drive to your phone and enjoy extra storage space that is portable and easy to use.