How to Connect to a Network in Windows 11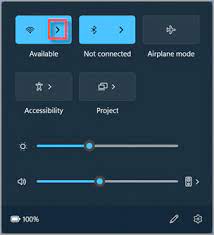 With the release of Windows 11, users may want to connect to a network for online access and sharing files across multiple devices. Whether it is a home or office network, connecting to one is a straightforward process. This article provides a step-by-step guide on how to connect to a network in Windows 11.
Step 1: Go to the Windows 11 Settings
The first step to connect to a network on Windows 11 is to access the Settings window. To do this, click on the Start menu and select the Settings icon (gear icon) on the left-hand side of the screen. Alternatively, you can use the keyboard shortcut Windows key + I to open Settings.
Step 2: Select the Network & Internet option
In the Settings window, select the Network & Internet option from the left-hand side panel. This will bring up various network-related settings, including Wi-Fi, Ethernet, VPN, and mobile hotspot.
Step 3: Choose the type of network you want to connect to
Next, select the type of network you want to connect to. If you have a Wi-Fi network around, click on the Wi-Fi tab. Alternatively, click on the Ethernet tab if you have a wired network connection.
Step 4: Select your network from the available list
Once you've found your network name, select it from the list of available networks. If your network is hidden, click on the option "Add network" to manually enter its name.
Step 5: Enter the network password
If the network is secured, you'll be prompted to enter the password to access it. Make sure you enter the correct password, or the network won't connect. You can choose the option to remember the network so that your device will automatically connect to it in the future.
Step 6: Troubleshoot the network connection (if required)
If you encounter any problems connecting to the network, you can troubleshoot your connection by clicking on the "Troubleshoot" button. Windows will then attempt to diagnose and fix any problems that may be preventing network connectivity.
Once you've gone through these steps, your Windows 11 device should be connected to the network. You can now access the internet, share files, and enjoy other network-connected services from your device.
In conclusion, connecting to a network can be achieved quickly with Windows 11. It involves simple steps that can be done by users, even without advanced technical knowledge. Just follow the steps mentioned above, and you'll be up and running on your network in no time.