How to Clean a Laptop Screen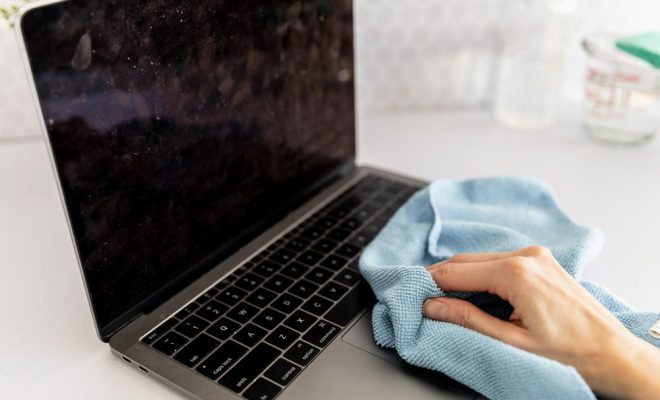 Maintaining the cleanliness of your laptop is important in order to maximize its longevity and functionality. One part of the laptop that is exposed to dirt, dust, fingerprints, and smudges is the screen. A dirty laptop screen not only looks unappealing but can also affect your viewing experience. In this article, we'll show you how to clean a laptop screen properly and safely.
1. Turn off the laptop
Before you start cleaning your laptop screen, make sure it is turned off and disconnected from any power source. This is for your safety as well as for the safety of the laptop.
2. Use the right cleaning solution
Cleaning solutions play a crucial role in cleaning your laptop screen. Avoid using harsh chemicals or cleaners that can cause damage to your laptop screen. Instead, use a solution that is specifically designed for cleaning laptop screens. You can find these cleaning solutions at your local computer or electronics stores.
3. Use a microfiber cloth
Never use regular paper towels, tissues, or rags to wipe your laptop screen as they can leave scratches or leave lint resiueces thta will make it dirty right after you clean it. Instead, use a microfiber cloth that is soft and gentle on the screen. Simply dampen it with the cleaning solution and squeeze out any excess liquid.
4. Wipe the screen gently
Now that you have the right cleaning solution and cloth, gently wipe the screen starting from the top to bottom. Avoid putting too much pressure on the screen or scrubbing it as it can cause damage or leave smudge marks.
5. Pay attention to corners and edges
When wiping your screen, pay attention to the corners and edges of the screen where dust and dirt tend to accumulate. Use a gentle to wipe off any dirt or dust.
6. Let it dry
After cleaning the screen, let it dry completely before closing the laptop. This will prevent any moisture from getting into the laptop which can cause damage.
In conclusion, cleaning a laptop screen is easy as long as you have the right tools and approach. By following the above tips, you'll be able to keep your laptop screen clean and clear of dirt and smudges, ensuring a better viewing experience.
How to Clean Your iPhone's Charging Port
As iPhone users, we often face the problem of a dirty or malfunctioning charging port. The accumulation of pocket lint, dust and debris can accumulate inside the port and hinder the charging process of the phone. In this article, we will be discussing some simple methods to effectively clean the charging port of your iPhone.
Method 1: Use a Soft-Bristled Brush
One of the easiest ways to remove dirt and debris that have accumulated in the charging port of your iPhone is to use a soft-bristled brush. You can use a toothbrush, a makeup brush or any other soft-bristled brush. Avoid using a stiff-bristled brush or anything made of metal as it can damage the charging port.
Gently brush the charging port area to dislodge any debris or buildup. Be cautious not to apply too much force or use sharp objects as it may damage the port.
Method 2: Use Compressed Air
Using compressed air to clean the charging port of an iPhone is another effective method. You can purchase a can of compressed air from a local computer or office supply store.
Hold the can of compressed air upright and aim the nozzle directly into the charging port of your iPhone. Give it a few short blasts of air to remove any debris that is lodged inside. However, keep in mind not to overdo it as an excessive amount of compressed air can damage your device.
Method 3: Use a Toothpick or a SIM Card Remover tool
If the debris stuck in the charging port is too stubborn to remove through brushing or compressed air, you can use a toothpick or a SIM card remover tool to gently scrape the debris out of the port.
However, be cautious when using this method as applying too much pressure or scratching the inner lining of your port may damage the charging port.
Method 4: Use a Cleaning Cloth
Using a cleaning cloth with isopropyl alcohol can also help remove debris from your iPhone's charging port. Dampen a corner of a soft, lint-free cloth with alcohol and gently wipe the area around the charging port to remove any dirt, dust or grime.
Make sure to use isopropyl alcohol with a high percentage, and avoid using water or any other cleaning solution as it may damage the phone.
Conclusion:
Cleaning an iPhone's charging port is essential to ensure the smooth functioning of the device. Regularly cleaning the charging port can prevent the build-up of debris and keep the charging process efficient.
Remember to use gentle and cautious methods while cleaning a charging port, as it is a delicate part of the device. However, if you still face difficulty in charging your phone, take it to an expert to prevent any further damage.