How to Check the Weather on Your Windows Desktop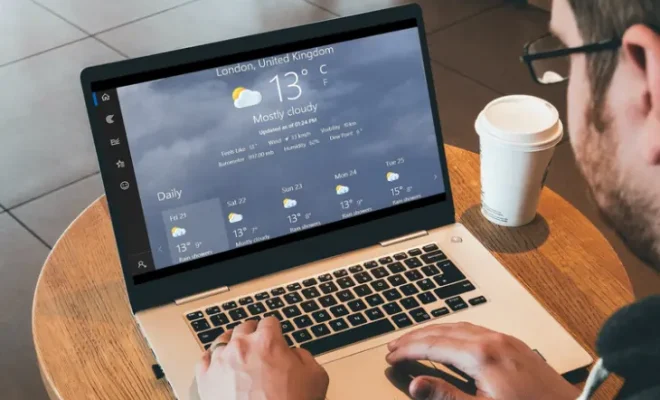 As technology continues to advance, checking the weather has become as easy as opening an app on our mobile devices. However, what if you prefer to check the weather on your Windows desktop? Fortunately, Windows provides multiple ways to get quick and reliable weather updates from your computer.
Here's how to check the weather on your Windows desktop:
Method 1: Using the Weather App
The Weather app is a pre-installed application that comes with Windows 10. To check the weather with the app, follow these steps:
1. Click on the Start menu and search for "Weather."
2. Click on the Weather app to open it.
3. The weather updates for your current location will be displayed, including the temperature, humidity, wind speed, and chance of precipitation.
4. If you want to see the weather in another location, click on the "+" icon to add a new location.
5. It's also possible to customize the app notification settings to alert you before severe weather conditions occur.
Method 2: Using Cortana
Cortana is Windows' personal digital assistant that can answer your questions and perform various tasks. Here's how to use it to check the weather:
1. Click on the Cortana icon on your taskbar or say "Hey Cortana."
2. Ask Cortana "What's the weather like today in (your city)?"
3. Cortana will provide you with the weather update for your location.
Method 3: Using the Taskbar
If you prefer to have a quick glance at the weather without opening any applications, you can add the weather to your taskbar:
1. Right-click on the taskbar and select "News and interests."
2. Select "Weather" and the current weather details for your location will appear in your taskbar.
3. You can also click on the weather widget to see more details or switch to another location.
Method 4: Using a Third-Party App
There are various third-party weather apps available on the Microsoft Store that you can download and install on your Windows desktop.
Some of the popular ones include:
– AccuWeather: Offers in-depth daily and hourly forecasts and weather alerts for multiple locations.
– The Weather Channel: Provides real-time weather updates, radar maps, and severe weather alerts.
– MyRadar: Shows animated weather radar for your current location or a location of your choice.
To install a third-party weather app, go to the Microsoft Store, search for the app, and click on the "Get" button to download and install it.
Final Thoughts
Whether you prefer to check the weather on your Windows desktop using the Weather app, Cortana, or a third-party app, you have plenty of options to choose from. With the right setup, you can stay up-to-date with the latest weather information and plan your day accordingly.