How to Adjust Music Equalizer on iPhone and iPad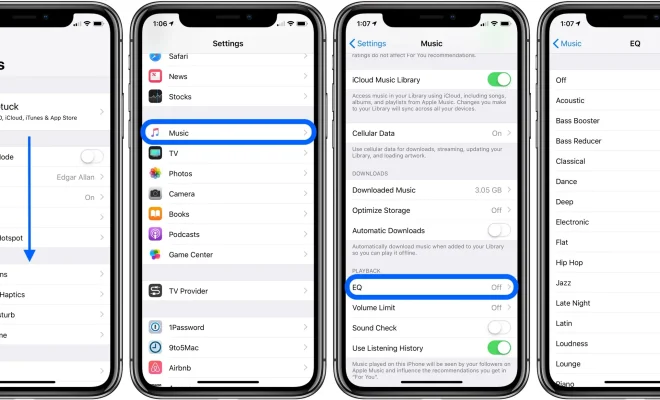 Music has become an integral part of our lives, and with the advancements in technology, it has become even easier to access and enjoy music on our devices. The iPhone and iPad are two of the most popular devices for listening to music, but sometimes the audio output may not be up to your expectations. A solution to this problem is to use an equalizer, which allows you to customize the audio output according to your preferences. In this article, we will guide you on how to adjust the music equalizer on iPhone and iPad.
Step 1: Open the Settings App
The first step is to open the Settings app on your device. You can find this app on the home screen of your device. Tap on the icon to open the app.
Step 2: Tap on "Music"
Once you have opened the Settings app, scroll down the screen to find the "Music" option. Tap on this option to open the Music settings.
Step 3: Tap on "EQ"
In the Music settings, scroll down to find the "EQ" option. Tap on this option to open the equalizer settings.
Step 4: Choose an Equalizer Preset
The equalizer settings page will display a list of preset options. Each of these presets has its own unique audio output configuration. Tap on one of the presets to try out its audio output. You can try out different presets to find one that best suits your preference.
Step 5: Customize Your Own Equalizer Settings
If none of the preset options work for you, you can customize your own equalizer settings. Tap on the "Manual" option at the top of the list to access the equalizer sliders. You can adjust each slider to enhance or minimize specific audio frequencies to your liking.
Step 6: Save Your Customized Equalizer Settings
Once you have customized your equalizer settings, tap on the "Save" button to save your settings. You can create multiple customized presets and switch between them whenever you want.
Conclusion
Adjusting the music equalizer on your iPhone or iPad can greatly enhance your music listening experience. With the six simple steps outlined above, you can easily customize the audio output to your preference. Experiment with different presets and adjust the sliders to find the perfect setting for you. Enjoy your music to the fullest on your device!