How to Add a New User Account on Mac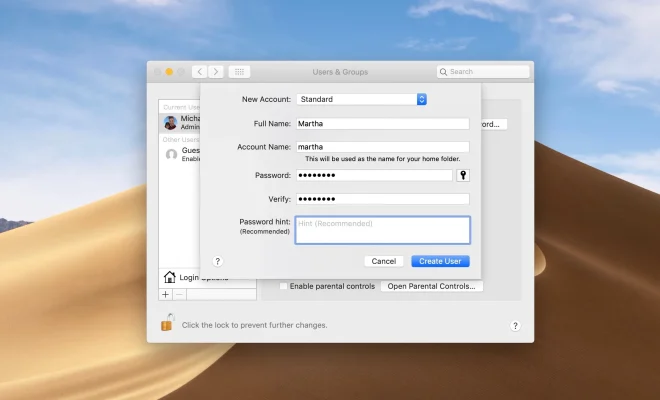 If you share your Mac with family members or colleagues, adding a new user account can help ensure everyone has their own personalised experience while working on the machine. It's also handy to have a separate account for guests and visitors to use when they need access to your computer.
Follow these simple steps to add a new user account on your Mac:
Step 1: Click on the Apple Menu
The first step is to click on the Apple menu located in the upper left corner of your screen.
Step 2: Select System Preferences
From the drop-down menu that appears, select "System Preferences."
Step 3: Click on Users & Groups
In the System Preferences window, click on "Users & Groups."
Step 4: Click on the Lock
There's a padlock icon located in the bottom left corner of the window. Click on it and enter your admin username and password to unlock the options.
Step 5: Click on the '+' Sign
Next, click on the "+" sign located below the list of current users.
Step 6: Fill in User Details
On the New Account screen, fill in the user details, including the user's full name, account name, password, and password hint. Choose the account type from the options: Administrator, Standard, Managed with Parental Controls, or Sharing Only.
Step 7: Click on Create User
Once you've filled in all the necessary details, click on "Create User" at the bottom of the screen.
Step 8: Log Out of Your Account
Now, log out of your account to access the new user account. Click on the Apple menu in the upper left corner of your screen and choose "Log Out" or use the shortcut keys: Shift + Command + Q.
Step 9: Log in to the New Account
You'll be taken to the login page where you can enter the username and password for the new account.
Congratulations, you've successfully added a new user account on your Mac! Repeat these steps to add multiple accounts for your family or colleagues to use on your device.
It's essential to manage your user accounts on Mac, especially if you share your device with others. A well-organised user account set-up helps improve functionality, privacy, and security.