Great Websites to Find Statistics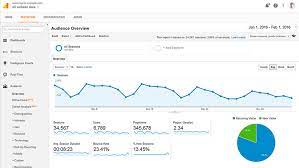 In today's data-driven world, statistics play a crucial role in informing decisions in various fields. From business to academia and everything in between, the availability of relevant and accurate statistical data is essential. Thankfully, the internet has made it easier than ever to access thousands of statistical resources. In this article, we will outline some of the best websites to find statistics.
1. statista.com: Statista is one of the world's top statistics portals that covers over 170 industries with data from more than 22,500 sources. The website provides access to market forecasts, whitepapers, and infographics generated from both public and private data sources.
2. data.gov: Data.gov is the official data portal of the United States Government, which provides access to datasets from various government departments. The portal covers a broad range of topics, including agriculture, climate, education, health, and public safety, among others.
3. eurostat.europa.eu: Eurostat is the statistical office of the European Union, which provides access to comprehensive and reliable data on the EU and its member states. The portal covers social and economic issues, including agriculture, education, energy, environment, and health.
4. worldbank.org: The World Bank provides global statistics on various topics such as poverty, education, health, and economic development. Its Open Data catalog provides free access to over 8,000 indicators collected from 200 countries.
5. imf.org: The International Monetary Fund (IMF) provides data on global economic and financial developments. The website provides access to a vast database of macroeconomic and financial statistics and reports, which can be filtered and downloaded for analysis.
6. bls.gov: The Bureau of Labor Statistics (BLS) provides data on labor economics, including employment, wages, and productivity, among others. The website features a wealth of interactive charts, maps, and other tools that allow users to explore and analyze data.
7. gapminder.org: Gapminder is a Swedish non-profit organization that makes data on global development trends easy to understand and access. The website features interactive charts, maps, and visuals that help users grasp complex statistical concepts easily.
8. kaggle.com: Kaggle is a platform that brings together machine learning enthusiasts and data scientists to collaborate and share datasets. The platform also hosts various competitions that allow users to test their skills and win cash prizes.
In conclusion, the internet provides a vast collection of statistical resources that are accessible with just a click of a button. The above-mentioned websites are just a few of the vast array of options that users can choose from when looking for statistical data. With these resources, data enthusiasts, researchers, and curious individuals can learn, analyze, and draw insights to guide their decision-making processes.