Galaxy S20 5G Review: Top-Shelf Specs, but Plenty of Room for Refinement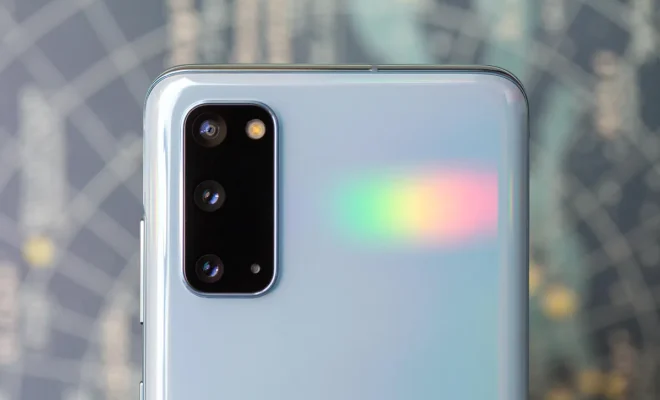 The Samsung Galaxy S20 5G is the latest flagship smartphone from the electronics giant, boasting a stunning and sleek design coupled with top-of-the-line features. However, while the phone has many strengths, it also has some areas that could use improvement. In this review, we'll take a closer look at this dynamic device to see if its advantages outweigh the drawbacks.
Design and Build Quality
The Galaxy S20 5G's design is undeniably attractive. Its slim body and nearly bezel-less AMOLED display make for an eye-catching appearance. The build quality feels solid and premium as well, with materials such as glass on the front and back complemented by an aluminum frame. Despite its large size, the phone is comfortable to hold and operate.
Display
One of the standout features of the Galaxy S20 5G is its gorgeous 6.2-inch Quad HD+ Dynamic AMOLED display with a buttery-smooth 120Hz refresh rate. This refresh rate makes scrolling through apps and webpages feel incredibly smooth, giving a superior viewing experience compared to most smartphones on the market. However, it should be noted that using the phone at a 120Hz refresh rate will result in reduced battery life.
Camera
The Samsung Galaxy S20 5G sports an impressive camera array consisting of a 12MP primary lens, a 64MP telephoto lens with 3x hybrid zoom, and a 12MP ultra-wide-angle lens. By all accounts, this should amount to exceptional photographic capabilities. While image quality in good lighting conditions is outstanding – capturing sharp details and vivid colors – low-light performance leaves something to be desired.
Battery Life
Equipped with a sizable 4,000mAh battery, one would expect the Galaxy S20 5G to deliver long-lasting battery life. Unfortunately, this is not consistently the case, especially when using the 120Hz refresh rate. Heavy usage will drain the battery more quickly than expected, forcing users to choose between optimal performance and battery longevity.
5G Connectivity
A signature feature of the Galaxy S20 5G is its inclusion of 5G connectivity. While this is undoubtedly a promising technology that will revolutionize the way we use smartphones, its current implementation has some flaws. For example, coverage is still limited in many areas, and phones frequently switch between 4G and 5G, making for an inconsistent experience.
Conclusion
The Samsung Galaxy S20 5G is a remarkable device with top-shelf specifications and features that will appeal to many users. Its attractive design, stunning display, and impressive camera specs make it stand out from the competition. However, its limitations in low-light photography, average battery life, and inconsistency in 5G connectivity leave room for improvement. Users should weigh these considerations when deciding if the Galaxy S20 5G is the right smartphone for them.