eLearning Course Design They'll Love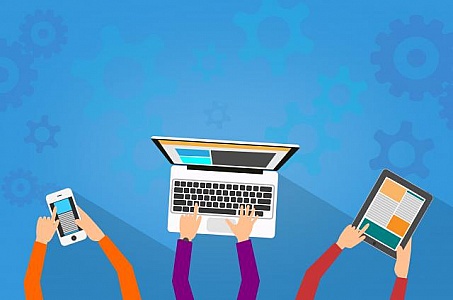 You can learn anything with elearning; sometimes these courses are free. For example, Udemy, Harvard, and MIT offer an array of elearning opportunities, but they don't stop there. Elearning has even gained a following in K-12 schools.
In its most basic terms, elearning is "learning conducted via electronic media, typically on the internet; successful elearning depends on the self-motivation of individuals to study effectively.'"
Students take responsibility for their learning by working through lessons, reflecting, and taking assessments.
How to design elearning courses
Elearning lends itself particularly well to scenarios requiring high levels of literacy. Participants must be able and willing to comprehend through reading rather than with extensive visuals (like in gamification) and simulations.
If you're wondering how to design effective elearning modules for your courseware,
here's what most elearning contains:
· Storytelling – participants relate best to stories
· Chunked content – learners appreciate small bites of information at a time; it's less overwhelming.
· Reflection – learners need ample time to think about what they are learning and form opinions
· Adaptive assessment – quizzes must meet learners where they are and adjust according to mastery levels
· Reliance on infographics – easy to understand visuals help to make meaning clear
These five requirements are just the beginning.
Ask the right questions
Developing an elearning course ought to be easy, right? It can be, with the right strategic planning. Before you embark on a design, ask these two questions:
· How do your consumers learn?
· What do you want everyone to know?
As you may realize, not everyone learns the same way. Some learners are visual, and others are auditory or tactile. Young children especially have varied learning styles and even their ability to concentrate for long periods is affected by their age and level of maturity.
Second, what will learners get from taking your course? Your learning objectives will determine what goes into each module of the course. The most effective elearning courses align with curriculum standards.
Keep it simple
You'll be tempted to put all the bells whistles you can in an elearning course, but don't. Keep your format as simple as possible. Use a template if you have one. Once you have a form that works, continue to use it.
Keep in mind, however, that some elearning modules may need localization, which means that although the course is marketed globally, the content must be modified for specific markets. There are tools that can help you adjust the content to each of your audiences, but you still want to keep it as simple as possible. Students want to access the information you have and learn the content, not your program.
Give it a try
Elearning brings multiple benefits to the virtual classroom. Students appreciate being able to take responsibility for their own learning, and elearning lets them do that. In addition, well-designed elearning courses can transcend culture and geography because participants can share what they're thinking by posting comments on message boards or initiating chats.
By designing a well-thought-out elearning course, you'll be an essential part of the learning process.