Do Not Download DLL Files to Fix Missing DLL Problems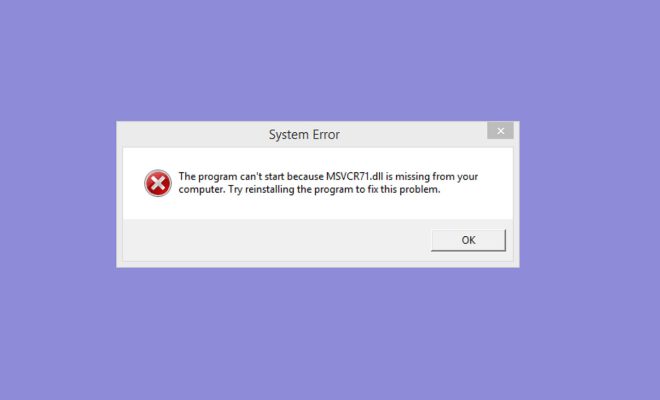 DLL (Dynamic Link Library) files are essential components of Windows operating system that allow multiple programs to use their functions and resources without the need to duplicate them. However, missing or corrupted DLL files can cause runtime errors and other issues that affect the performance and stability of your computer. Many users tend to download DLL files from unverified sources to fix these problems. But, it is not recommended to download DLL files from the internet as it can lead to serious security risks and system instability.
Here are some reasons why you should not download DLL files to fix missing DLL problems:
1. Security Risks: Downloading DLL files from untrusted sources can expose your computer to serious security vulnerabilities. The DLL files you download may contain malware, viruses or spyware that can infect your computer, steal your personal information or damage your files. Cybercriminals often disguise malware as DLL files and distribute them through fake download websites, social engineering techniques, or phishing emails.
2. Compatibility Issues: DLL files are specific to the version of Windows operating system and software applications they are designed for. Downloading the wrong version of a DLL file may cause compatibility issues and produce more errors than before. Moreover, installing multiple versions of DLL files can lead to conflicts and may cause system crashes or freezes.
3. Legal Consequences: Downloading DLL files from unauthorized sources may violate copyright laws and licensing agreements. Using pirated or unlicensed DLL files can result in legal consequences, such as fines or prosecution.
4. Unreliable Results: Even if you manage to download a DLL file from a trustworthy source, there is no guarantee that it will solve your missing DLL problems. DLL files are interconnected with other system files, and replacing them manually might cause more problems than it solves.
If you experience problems with missing DLL files, the best solution is to use the built-in System File Checker tool (SFC) that scans and repairs corrupted or missing system files automatically. Here are the steps to perform SFC scan:
1. Press the Windows key + R and enter "cmd" in the Run box and press enter to launch the Command Prompt.
2. Type "sfc /scannow" command in the prompt and press enter to start the scanning process.
3. Wait until the scan finishes and restart your computer.
System File Checker will locate missing or corrupted DLL files and replace them with the correct versions from the Windows operating system. If the problem persists, you can also try restoring your system to a previous restore point, reinstalling the software or resetting your Windows operating system.
In conclusion, downloading DLL files from the internet can cause more harm than good. By using the built-in SFC tool or seeking professional help, you can fix missing DLL problems without compromising your system's security and stability.