DIY Laptop Stands You Can Make This Weekend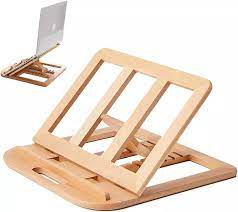 Laptop stands are becoming more popular these days because they offer a comfortable way to work on your laptop. They reduce the strain on your neck, eyes, and back, and allow you to work at a comfortable angle. However, most laptop stands available in the market can be quite expensive. Fortunately, you can make your own DIY laptop stand using readily available materials that are affordable and easy to find. Here are some DIY laptop stands you can make this weekend.
Cardboard Laptop Stand
Cardboard stands are one of the most straightforward and cheap DIY options for a laptop stand. All you need is a large piece of cardboard and a pair of scissors. First, fold the cardboard in half, and then cut a triangular piece on one of the halves to create an angle. Next, fold both edges of the triangular section towards each other, and then press them into place. Finally, tape or glue the edges of the stand together to hold the shape. You can customize the angle and size of the stand based on your needs.
Book Laptop Stand
A book laptop stand is a great way to repurpose an old book that you may have lying around your home. You'll need a hardcover book that's large enough to support your laptop. First, remove the front and back covers from the book. Next, position the book at the desired angle and cut two slits on either side of the inner spine to create a slot for the laptop to rest. Finally, place your laptop in the slot, and your book laptop stand is ready.
PVC Pipe Laptop Stand
PVC pipe laptop stands are sturdy and adjustable, making them an ideal option for those who need to change the angle or height of their laptop frequently. You'll need PVC pipes, a saw, and some glue for this stand. Cut two pieces of PVC pipe to the height you'd like your laptop to sit. Then, cut four additional pieces to the width of your laptop. Use glue to connect two of the four pieces to each of the longer pieces, creating a rectangular frame. Finally, glue or attach the remaining two pieces of PVC pipe to the back of the frame to act as a support for your laptop.