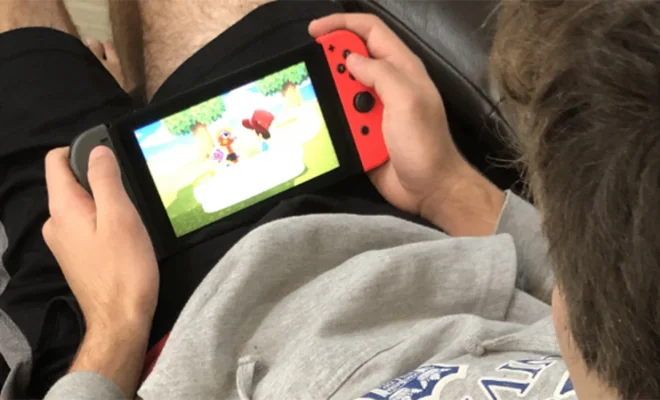 The Nintendo Switch has been one of the most highly anticipated console releases in recent memory, promising to bridge the gap between home consoles and portable gaming. Released to global acclaim, this hybrid console has redefined the way we play video games as it offers the convenience of gaming on the go, while still being able to enjoy the benefits of a traditional console on a larger screen.
First things first, the Nintendo Switch is an impressive piece of technology, combining the best of both worlds in terms of hardware and software. The hybrid console comes with two features that enable gamers to play in a variety of situations – the Joy-Con controllers and the dock. The versatile Joy-Con controllers can be detached from the console itself and used for two-player games or individual gameplay, whether that is relaxing on the couch at home or playing during a long haul flight.
The dock, on the other hand, is a handy feature that allows gamers to switch between playing on a TV screen at home and playing on the go in handheld mode. The transition from the dock to the handheld mode is seamless, as the switch instantly recognizes the connection, making the shift between modes practically effortless.
As a gaming console, the Nintendo Switch does not disappoint. It delivers quality games with stunning graphics and realistic sound effects. The console offers a mix of first-party titles and third-party games, including some of the most popular franchises such as Super Mario, Legend of Zelda, and Animal Crossing. In addition, the Switch boasts a brilliant library of indie games, giving gamers plenty of options to choose from, so they can find the game that suits their tastes.
One of the most impressive features of the Nintendo Switch is its multiplayer capabilities, as it offers the opportunity to play games with friends and family. You can use multiple Joy-Cons to invite others to join you in games such as Mario Kart 8 and Super Smash Bros. Ultimate, making it a great console for social gatherings, whether that is at home or out and about.
Overall, the Nintendo Switch is a highly impressive gaming console that delivers the best of both worlds in terms of hardware, software, and convenience. The hybrid console has redefined the way we play video games, and it is a must-have for any avid gamer out there. The Switch offers something for everyone, from hardcore gamers to casual players, and it provides the versatility that you won't find in any other console. If you haven't got your hands on a Nintendo Switch yet, you should add it to your wishlist.