Costco Computers: Pros & Cons of Buying PCs From Costco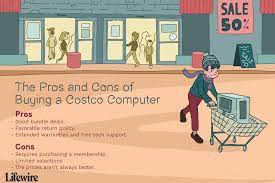 When it comes to buying a new computer, there are many options available in the market. One of the most popular options is to purchase a computer from Costco. Costco, the retail giant known for its warehouse stores, also offers a range of computers and laptops from various brands. While purchasing a computer from Costco does have its advantages, it's important to consider the pros and cons before making a decision.
Pros:
1. Wide variety of options:
Costco offers a wide variety of computers and laptops from various brands like HP, Dell, and Lenovo. This means you can find a computer or laptop that suits your needs and budget, without needing to visit multiple stores.
2. Competitive pricing:
Costco is known for its competitive pricing, and the same applies to computers and laptops. They offer discounts, rebates, and other offers, making it a cost-effective option.
3. Extended warranties:
Costco offers an extended warranty on most of its electronics, including computers and laptops. If you encounter any issues with your computer, you can get it fixed or replaced under warranty.
4. Free tech support:
Costco also offers free tech support for its members who purchase a computer or laptop from them. This is beneficial, especially if you're not tech-savvy and need help setting up your new computer.
Cons:
1. Limited customization options:
When purchasing a computer from Costco, you have limited options for customization. You can select from a few pre-configured models, but you cannot customize it to your exact specifications.
2. Bloatware:
Some Costco computers may come with pre-installed software that you may not need. This can slow down your computer and take up valuable space on your hard drive.
3. Limited in-store availability:
Not all Costco stores carry computers and laptops. This means you may need to order your computer online, which can take longer to arrive.
4. No customization:
Costco only sells pre-built computers, so if you want to build your computer or add on custom features, you would have to purchase the parts elsewhere.
In conclusion, purchasing a computer from Costco has its pros and cons. It offers a range of options at competitive prices, with an extended warranty and free tech support for members. However, you have limited customization options, may face bloatware, and have limited in-store availability. Before making a decision on whether to buy a computer from Costco or not, make sure to consider your individual needs and preferences.