Closing the Faculty/Edtech Trust Gap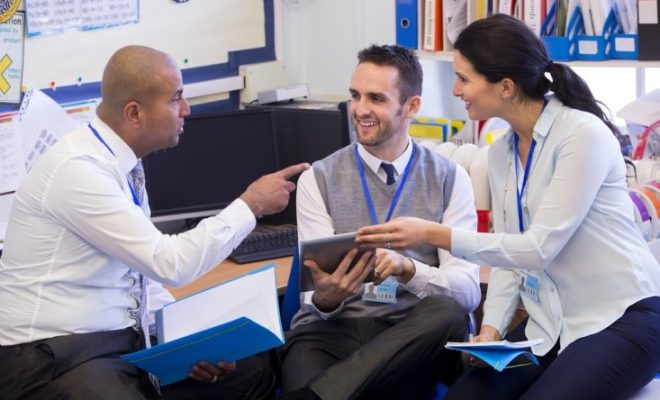 Schools tend to make big decisions on where the future is heading without the input of their staff. This trend has never been more prominent than it is right now with the introduction of more edtech into blended learning classrooms. It should be no secret that there is a major mistrust among faculty for the new digital tools that students tend to love. In fact, some surveys say that just under half of all faculty members believed that the gains from the new technology did not justify how much they cost.
Identifying the Problem
This is a staggering statistic that should make all of us pause for just a moment. There are plenty of studies proving that students placed in blended learning classrooms have a nine percent increase in test scores over the course of two years. Clearly, the issue is not that technology prevents students from learning. The mindset that technology doesn't work as well as a traditional method seems to be at the root of the problem.
Majority of the faculty members who don't believe technology is a worthwhile investment are tenured professors. They have been around for a while and are dedicated to their traditional methods of teaching. Schools are going to need to find a way to close the trust gap between these faculty and the edtech they must use to succeed.
Make Teachers Feel Valued
It's a common misconception that robots are bound to take over many jobs as artificial intelligence improves. Professors are starting to feel the unease that comes from this myth with more digital tools entering the classroom each semester. They may feel like they are simply biding their time until these new edtech programs eventually replace them. Schools would do well to make sure their faculty feels appreciated and valued. Reiterate that their job is not at stake with edtech. It should be viewed as a helpful tool and not a potential replacement.
Help Staff Learn
Perhaps the reason that staff can't trust edtech is that they don't understand how to use it. You might be able to solve the trust issue and improve the learning experience for students by sending faculty members to training. Give them paid leave for the education. Consider this an investment in their professional development. You could host a training from a local expert right on your campus or pay for staff to attend a few courses at a local technical school. Either way, this can give them better insight into how to use the tools and trust that they can be effective in the classroom.
Learning how to manage the introduction of edtech in the classroom can be particularly challenging when the staff finds it difficult to trust these tools. With a few simple steps, you can begin to target the root cause of the mistrust and build up a firmer foundation for success. Think about what your faculty could benefit from most so you can start to take the first steps toward a more successful edtech implementation.