Can You Play Multiplayer Games on the Nintendo Switch Lite?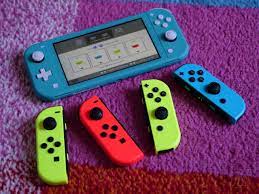 The Nintendo Switch Lite, released in 2019, is a smaller, more portable version of the Nintendo Switch. While it offers many of the same features and capabilities as the original Switch, there are some differences between the two models. One question that often arises is whether or not you can play multiplayer games on the Nintendo Switch Lite. The short answer is yes, but there are some important caveats to keep in mind.
First things first: the Nintendo Switch Lite is compatible with most of the same games as the original Nintendo Switch. This includes many of the popular multiplayer games such as Super Smash Bros. Ultimate, Mario Kart 8 Deluxe, and Animal Crossing: New Horizons. However, there are some games that are not compatible with the Switch Lite due to its lack of certain features. For example, games that require removable Joy-Con controllers, such as 1-2 Switch, cannot be played on the Switch Lite.
Assuming you have a multiplayer game that is compatible with the Switch Lite, the next step is to consider how you will play with others. The Switch Lite supports both local multiplayer and online multiplayer. Local multiplayer involves playing with others who are physically nearby, using multiple Switch consoles and copies of the same game. This can be done with up to four players, assuming the game supports it. For example, four people can play Mario Kart 8 Deluxe together on four different Switch Lite consoles.
Online multiplayer, on the other hand, involves playing with others over Nintendo's online network. This allows you to play multiplayer games with people from around the world, assuming they also own the same game and choose to play online. To play online, you will need a Nintendo Switch Online membership. This service costs $3.99 per month, $7.99 for three months, or $19.99 for a full year. A family membership, which allows up to eight Nintendo accounts to share one membership, is available for $34.99 per year.
Of course, playing multiplayer games on the Nintendo Switch Lite can be even more fun with additional accessories. You may want to consider picking up additional Joy-Con controllers if you plan on playing local multiplayer with friends and family. You can also purchase the Nintendo Switch Online app, which allows you to voice chat with other players and access additional features for certain games.
In conclusion, yes, you can play multiplayer games on the Nintendo Switch Lite. However, it's important to ensure that the game you want to play is compatible with the Switch Lite and to consider how you want to play with others (local or online). With the right game and accessories, the Switch Lite can provide hours of multiplayer fun for you and your friends.