Breaking Down Barriers: How Design & Technology Can Assist with Learning Accommodations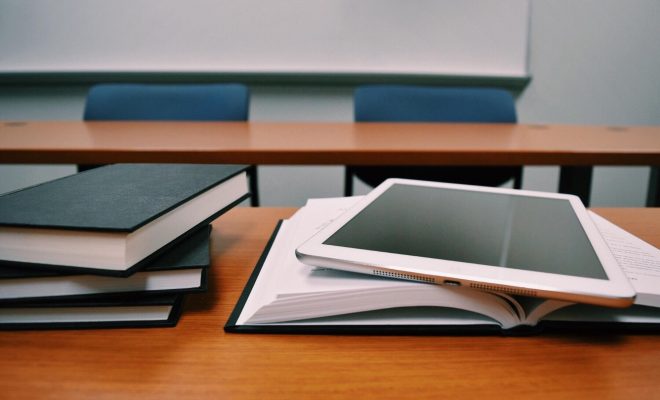 Imagine not being able to hear at a crowded networking event, a loud social; or not being let in beyond the velvet rope to a party. For you, it may only be a burden in the moment, but for many who require accommodations or additional accessibility, this remains a part of their everyday life. For example, wheelchair users are unable to enter many shops, malls, restaurants; public places that don't have wheelchair access or ramps.
A lack of accessibility can't be excused at schools, campuses or student facilities. When it comes to education, a lack of accommodation can hinder students from engaging in class, and being present in the way necessary to succeed or be their best. Accessibility in education plays a vital role in providing accommodating learning environments. Below are five education design ideas to assist and enhance the capabilities of students who need learning accommodations.
1. Room to ask questions
IMAGE: https://www.globalfurnituregroup.com/us/education/resources/projects#project-102
Students with wheelchairs or crutches require room for places to study and work, no matter the classroom configuration. For example, in a typical classroom set-up at The York School, in Toronto, Ontario, classrooms are set up with workstations to reinforce collaboration, and in order to accomodate differently-abled students, student chairs are easily-foldable and able to be stacked away. Classrooms that allow a freedom of movement, and a layout that can be easily customized, is essential to ensure students feel accommodated and able to learn.
IMAGE: https://www.globalfurnituregroup.com/assets/generated_images/resources/projects/5900/5900-0.jpg
Being able to ask teachers and faculty questions is also important; which is why the open concept design of teachers' desks is also a unique feature to The York School. Allowing students to see teachers means the question they were too anxious to ask in class doesn't remain unanswered. Accessibility sometimes comes from who else we allow to be accessible, and in education, that can mean the presence of a teacher beyond class time.
IMAGE: https://www.globalfurnituregroup.com/assets/generated_images/resources/projects/5885/5885-0.jpg
2. Empowering with technology
Sometimes accomodation doesn't require any physical requirements, but rather, ways to enhance learning when you don't retain information the same way as everyone else. In a private school for children, The Roeper School in Birmingham, Michigan, the recently transformed upper campus includes new commons with new technologies, including TV casting devices, large iMacs and new PCs, as well as places for independent studies and whiteboards.
IMAGE: https://educationsnapshots.com/photos/3056/
In a digital age, updated tech can give students the advantage of the latest software, studying tools, or even just access to online encyclopedias, while whiteboards allow students to draft their thoughts in ways that sometimes can't be elaborated on by typing in a word processor. Technology can also aid students who are either hard of hearing, visually impaired, or have a lot of anxiety, which is why places to study quietly can be such a necessity. Some furniture solutions, such as Global Furniture Group's River benches and chairs, even have built-in power and USB outlets to ensure students can plug in tablets and devices and work away without interruption.
3. "Will these slides be online later?"
Speaking of technology, sometimes, writing notes on a chalkboard isn't enough for a student to retain the lesson. Students with visual, hearing, learning or mobility impairments may need print-outs or presentation slides after class, sometimes available on a shared student portal. In fact, this level of resource is becoming increasingly common for high school and college students. At Ecole Kenwood French Immersion School in Columbus, Ohio, digital presentations start even earlier, with young students being provided large, colorful slides when being taught geography, as an example shown below. The access to a large, elevated space also means students can sit as close or as far as needed, without other students blocking the presentation screen.
IMAGE: https://educationsnapshots.com/projects/2834/ecole-kenwood-french-immersion-school/
4. Anxious-free classrooms
Vast lecture halls and intimidating classroom sizes are staples of many university experiences; but that is now changing. For the University of Southern California located in Los Angeles, California, their USC Jimmy Iovine and Andre Young Academy for Arts division keeps in mind that big classes aren't always the best way to learn; especially with such a specialization in business, design, engineering and marketing specialization.
IMAGE: https://educationsnapshots.com/photos/3458/
At the academy, small classroom sizes, bean bag chairs and raised seating allows for a space that can reduce anxiety and make it easy to ask questions and retain lecture information. A visually cluttered space with many objects lying around can pose safety risks. Avoiding excessive furniture, materials and equipment also allows space for those in wheelchairs or in need of physical accomodation.
5. Different floor textures
Providing good contrast in furnishings, walls, and floors, can assist students with little or no functional vision. Using different floor textures (differentiating between tile and carpeted areas) can provide the student with extra tactual clues. At ITCE Learning Center in Sofia, Bulgaria, this institute for IT and Management training uses color in all the right ways for those who are visually impaired. For those with classroom anxiety, the avant-garde design of the institute also means postcards, framed art and music scores. A change of pace; especially for those in Info-Tech:
IMAGE: https://educationsnapshots.com/photos/3528/
An inclusive learning environment
Accommodations are a way for staff, students and faculty to be included in places and activities that are otherwise inaccessible to them. By redesigning the classroom space using furniture and new technology, we can eliminate some barriers in the classroom that have excluded students from fully participating for a very long time. These above changes—and keeping an eye out for ways an education space may be exclusive in all the wrong ways—can only make for better, more inclusive ways to learn.