Big TV vs. projector: Pros and cons of huge home theater screens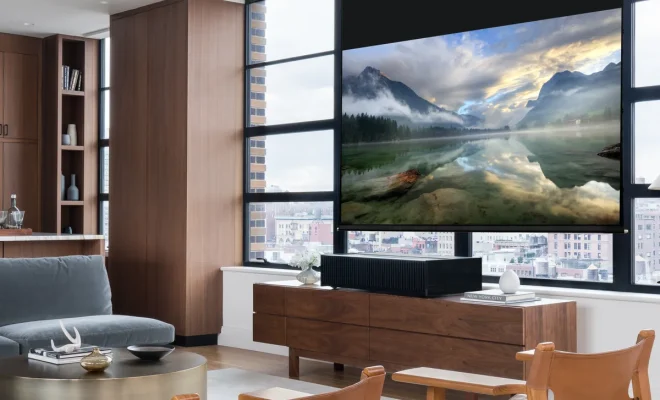 When it comes to creating a memorable home theater experience, size matters. While some may argue that a big TV is the way to go, others claim projectors provide the ultimate cinematic viewing experience. So which is better: a big TV or a projector? Here are the pros and cons of each:
Big TV:
Pros:
Size: Big TVs are, well, big. They can span from 55 inches all the way up to 100 inches and beyond, making it easy to create a truly immersive viewing experience.
Picture quality: High-end TVs offer stunning picture quality with deep blacks, bright colors, and excellent detail. Plus, with 4K and 8K resolution, viewers can see even the smallest details in every scene.
Convenience: Big TVs can be mounted to a wall or placed on a stand, making them easy to set up and use. No need to worry about placing them in the perfect spot or using blackouts to block out light as with projectors.
Cons:
Cost: Big TVs can be expensive, especially the larger models with advanced features like HDR, local dimming, and more.
Limited size: While TVs can be big, they do have limits. If you want to go beyond a certain size, the price increases rapidly. In addition, there may be limitations to the wall space or room size in your home.
Glare: Big TVs can be reflective, creating glare and reducing picture quality in bright rooms.

Projectors:
Pros:
Size: Projectors can create massive screens ranging from 80 inches to well over 200 inches, making them a popular choice for true cinephiles.
Flexibility: Projectors can be set up anywhere with a flat surface, including walls or a screen. This flexibility means that you can create a home theater in virtually any room of your home.
Affordability: While high-end projectors can be expensive, there are many affordable models available that offer excellent picture quality.
Cons:
Lighting: To get the best picture quality, projectors require a dark room free of ambient light. Otherwise, the image can be washed out and colors can appear faded.
Maintenance: Projectors require more maintenance than a TV. Lamp replacements and filter cleanings may be necessary over time, increasing costs and inconvenience.
Sound: Most projectors do not have built-in speakers, so separate speakers or surround sound system is needed for optimal sound quality. In conclusion, both big TVs and projectors have their pros and cons. If you want a convenient, easy-to-use home theater with exceptional picture quality, a big TV may be the way to go. On the other hand, if you want a truly immersive, large screen cinematic experience, a projector might be the better option. Ultimately, it's up to personal preference, budget, and the space you have available in your home