Best Wi-Fi Analyzer Apps for Android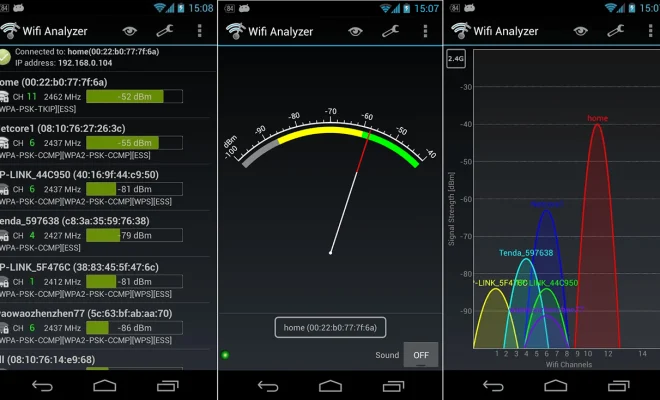 As wireless technology continues to be widespread and essential to our daily lives, having a reliable Wi-Fi connection has become more important than ever. A weak Wi-Fi signal can be frustrating, especially when you need to stream videos, play games or do work online. Fortunately, Wi-Fi analyzer apps are now available on the Android platform to help you understand your Wi-Fi network better and optimize your Wi-Fi signal for maximum performance.
In this article, we will explore some of the best Wi-Fi analyzer apps for Android that you can install and use to troubleshoot your Wi-Fi network connection and enhance signal quality.
NetSpot Wi-Fi Analyzer
NetSpot is a comprehensive Wi-Fi analyzer that provides in-depth data on signal strength, channel usage, and surrounding Wi-Fi networks. The app also helps you identify potential signal interference sources and optimize your router's configuration for optimal performance. With NetSpot, you can visualize your Wi-Fi network's coverage and plan out the best placement of your router. This app is available for free on Google Play Store.
WiFi Analyzer – Network Analyzer
This app offers a simple yet effective interface for analyzing your Wi-Fi network connectivity. WiFi Analyzer measures the signal strength over time and helps you visualize network frequency usage and overlapping networks. Frequency graph, history, and channel rating updates of WiFi Analyzer make sure that you stay informed about your network performance. The app also features a real-time signal strength meter that lets you monitor your Wi-Fi signal strength as you move around your home. WiFi analyzer is available for free on Google Play Store.
OpenSignal
OpenSignal is not just a Wi-Fi analyzer, but also an excellent network signal mapping and speed testing app. With OpenSignal, you can see how your network signal operates from your location and pinpoint dead zones where there's little or no connectivity. The app also provides Wi-Fi hotspot locations and an extensive global coverage map of cell towers. OpenSignal is available for free on Google Play Store.
WiFi Analyzer by Farproc
WiFi Analyzer provides a straightforward display of your Wi-Fi network data, with graphs showing the strength of signal over time and the frequency channel you've connected to. The app also provides detailed information about surrounding Wi-Fi networks, which lets you change your network to avoid potential interference. WiFi analyzer by Farproc is available for free on Google Play Store.
Wi-Fi Monitor
Wi-Fi Monitor provides real-time data to monitor every aspect of your Wi-Fi network, including signal strength, network speed, and connectivity issues. The app provides you with a detailed report of both the speed of your network connection and the device you're using. With many other features such as network usage reports, connection to multiple networks, access point details, and signal strength graph make the app a complete WiFi monitoring solution. Wi-Fi Monitor is available for free on Google Play Store.