Best Ways to Track Amazon Price Drops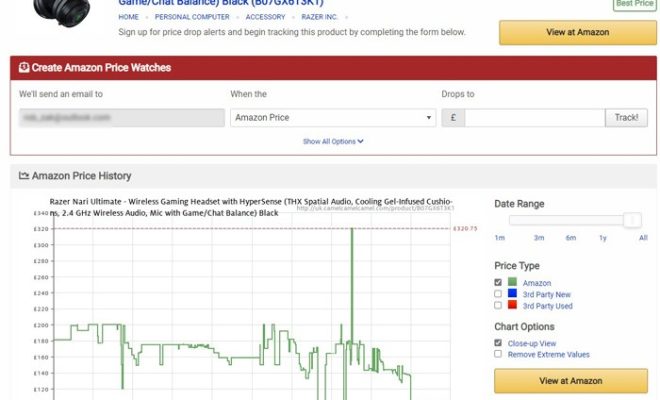 Amazon is one of the largest online retailers in the world, selling almost anything and everything we could possibly need. However, the prices of products on Amazon fluctuate frequently and can change in a matter of hours, which could mean missing out on significant discounts. Thankfully, there are ways to keep track of these price drops and score the deals you were after. Here are some of the best ways to track Amazon price drops.
1. CamelCamelCamel
CamelCamelCamel is a price tracking tool that monitors product prices on Amazon and other popular online retailers. This tool provides users with detailed pricing history charts, allowing them to make informed purchasing decisions. It also sends email alerts when the price of a certain product drops below a specified threshold. Alternatively, there is a website extension, Camelizer, which displays Amazon price history charts for individual products right on the site.
2. Keepa
Like CamelCamelCamel, Keepa is also a price tracking tool that helps you track Amazon price drops. This tool provides price tracking graphs, product history charts, and email alerts for price drops. Additionally, Keepa has several unique features, including an Amazon Deals page, which aggregates all the best deals on Amazon on a single page. The tool also has a browser extension for Chrome, Firefox, and other browsers.
3. Honey
Honey is a browser extension that helps you track price drops on Amazon and other online stores. After installing the extension, Honey automatically searches for coupons and promotional codes and applies them to your cart. Additionally, the tool provides price history charts, alerts for price drops and price comparisons, and an Amazon Best Price page that shows the lowest prices available for a particular product across all sellers.
4. Amazon Discounts Page
Amazon has a dedicated page for discounted products called "Today's Deals" that includes deals on products from all categories. This page is updated hourly and contains discounted items ranging from electronics to household products. Moreover, there is a "Deal of the Day" section that features a single product at a significant discount for 24 hours, while the "Lightning Deals" section is a limited-time, flash sale that lasts for only a few hours.
5. Google Alerts
Google Alerts allows you to set up email or RSS alerts that notify you when new information appears on a pre-selected topic. To track Amazon price drops, you can set up a Google Alert for a specific product or category using keywords like "Amazon price drop" or "Amazon sale," and the system will notify you when there are new products or discounts. In conclusion, there are several ways to track Amazon price drops and score the best deals on products. Whether you use a price tracking tool, browser extension, or Amazon's discount pages, the key is to stay informed and act fast when there is a price drop. With these tools and tips, you can save money while shopping on Amazon without compromising on quality.