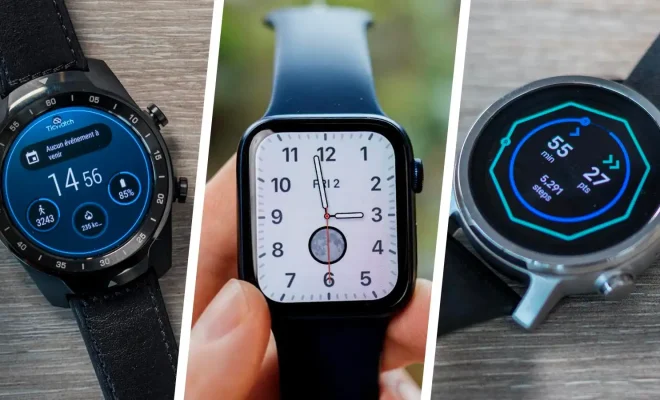 As technology continues to evolve, smartwatches have become more than just a device to track time. They have become an essential tool for fitness tracking, entertainment, communication and much more. Choosing the best smartwatch can be a daunting task, considering the vast array of options available in the market. In this article, we'll give you a breakdown of some of the best smartwatches you can purchase in 2021.
Apple Watch Series 6
The Apple Watch Series 6 is the most popular and best smartwatch currently on the market. It has a Retina LTPO OLED display that offers bright and clear visuals. With the latest technology, the Series 6 offers ECG monitoring, an always-on retina display, and a blood oxygen sensor. Furthermore, it has a GPS feature, water-resistant up to 50 meters, and can double as a phone remote control. The Series 6 also offers a comprehensive list of fitness tracking features, such as step tracking, workout detection and integration with various fitness apps.
Samsung Galaxy Watch 3
Samsung Galaxy Watch 3 is the best smartwatch for Android users. This watch comes with a rotating bezel and a stunning AMOLED display that provides clear visuals. The Galaxy Watch 3 has advanced health monitoring features, such as ECG, blood oxygen saturation, and heart rate monitoring. This smartwatch also offers advanced sleep tracking, fall detection, and automatic workout tracking. The watch comes with a hefty price tag, but it's definitely worth it.
Fitbit Versa 3
The Fitbit Versa 3 is a great smartwatch for fitness enthusiasts. It comes with GPS, Active Zone Minutes, and heart rate monitoring, which makes it ideal for tracking exercise intensity, and also tracking sleep quality. The Versa 3 also offers voice control, Spotify integration, and support for Amazon Alexa and Google Assistant. Additionally, it boasts a battery life of up to six days, which is impressive for a smartwatch.
Garmin Vivoactive 4
The Garmin Vivoactive 4 is a versatile smartwatch that can adapt to your fitness and wellness needs. It has advanced GPS features, music storage, and a range of metrics that track your stress levels and hydration levels. The Vivoactive 4 comes with over 20 pre-loaded sports apps, including activities like yoga, swimming, and skiing. Additionally, the watch allows you to make payments, access the streaming service, and send texts. With a battery life of up to eight days, this smartwatch is both functional and practical.
In conclusion, the best smartwatch should offer advanced health monitoring metrics, GPS tracking functionality, a long battery life, and customizable features based on your preferences. You can select any of the smartwatches mentioned above based on your needs and lifestyle. Each of these smartwatches has a unique set of features and designs that make them stand out from the rest.