Best Smart TVs for Streaming in 2023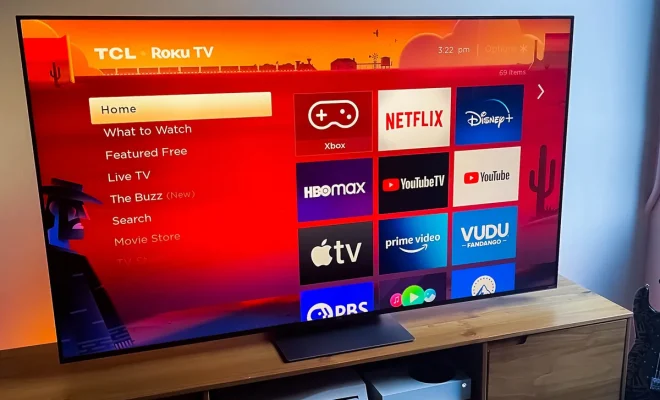 As technology advances, so does our demand for convenience and accessibility. One of the most popular forms of entertainment is streaming, and with the growing popularity of smart TVs, the streaming experience has never been easier. Here are the best smart TVs for streaming in 2023.
1. LG C1 OLED TV
The LG C1 OLED TV is a top-of-the-line option for streaming. With its 4K resolution and OLED screen, it offers stunning picture quality. It runs on webOS 6.0, which is user-friendly and easy to navigate. The TV also supports Dolby Vision and Dolby Atmos, making it perfect for binge-watching movies and TV shows.
2. Samsung QN900A Neo QLED TV
The Samsung QN900A is a premium TV that offers an immersive streaming experience. It has a 8K resolution with Quantum Dot technology, which creates vibrant and vivid colors. The TV also features Samsung's smart platform, Tizen, which offers a wide range of streaming apps like Netflix, Hulu, and Disney+.
3. Sony A8H OLED TV
The Sony A8H OLED TV is a high-end smart TV that offers excellent picture quality. It features Sony's X1 Ultimate processor, which enhances the color, contrast, and clarity of the images. The TV also comes with Android TV, which has access to Google Play Store, where users can download their favorite streaming apps.
4. TCL 6-Series Roku TV
The TCL 6-Series Roku TV is a budget-friendly option that still offers a quality streaming experience. It comes with Roku TV, which has access to over 500,000 movies and TV episodes. The TV also has 4K resolution, HDR support, and Dolby Vision, making it one of the best value options on this list.
5. Vizio OLED TV
The Vizio OLED TV offers an outstanding streaming experience with its 4K resolution and Vizio's SmartCast operating system. It also has built-in support for popular streaming apps like Netflix, Hulu, and Amazon Prime Video. The TV also features a sleek design, making it not only a great streaming option but a stylish addition to any home.
In conclusion, modern technology has made streaming more accessible than ever before. With these top smart TVs for streaming, you can enjoy your favorite movies and TV shows with stunning clarity and immersion. Whether you prefer Samsung, LG, Sony, TCL, or Vizio, there is a smart TV out there perfect for your streaming needs.