Best Screenwriting Software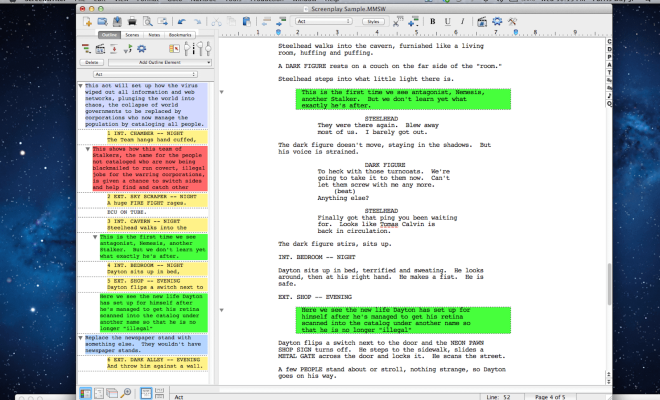 Aspiring screenwriters face many challenges when it comes to writing their first script. From the creative aspect of developing a compelling story to the technical aspect of formatting correctly, there are many things that can make writing a screenplay stressful. Choosing the right screenwriting software can go a long way in making the whole process easier and more enjoyable.
To help you with that choice, here are some of the best screenwriting software options available:
1. Final Draft: Final Draft is one of the most popular screenwriting software options on the market today, and it has been around since the 1990s. It is known as the industry standard for screenwriting software and is used by professional screenwriters and production companies worldwide. Final Draft offers features like collaboration tools, automatic formatting, and a script navigator that can help writers stay organized.
2. Celtx: This software is an all-in-one solution for filmmakers. In addition to screenwriting, it includes a suite of tools for pre-production, production, and post-production. This makes it an excellent option for indie filmmakers who need an affordable way to manage their entire production process.
3. Scrivener: Scrivener is popular among novelists, but it is also an excellent option for screenwriters. It is a versatile writing tool that allows writers to organize all their materials in one place. It also has a slew of helpful features like outlining, note-taking capabilities, and the ability to work on multiple documents at once.
4. WriterDuet: WriterDuet is another popular screenwriting software that is popular among amateur and professional screenwriters. It offers a variety of useful features, including automatic saving, real-time collaboration, and commenting on others' work. It is also a more affordable option than some of the other tools available.
5. Fade In: Fade In is a screenwriting software option that has gained popularity in recent years due to its low cost and ease of use. It offers features like formatting, outlining, and a distraction-free writing mode. It also has a free version available, making it an ideal option for those just starting.
In conclusion, these are some of the best screenwriting software options available today. However, it's worth noting that each writer has unique needs when it comes to software selection. Therefore, it is best to choose a software option that matches your specific needs and writing style. Whatever your choice, investing in the right screenwriting software can help you be successful in your screenwriting career,