Best Photo Light Boxes of 2023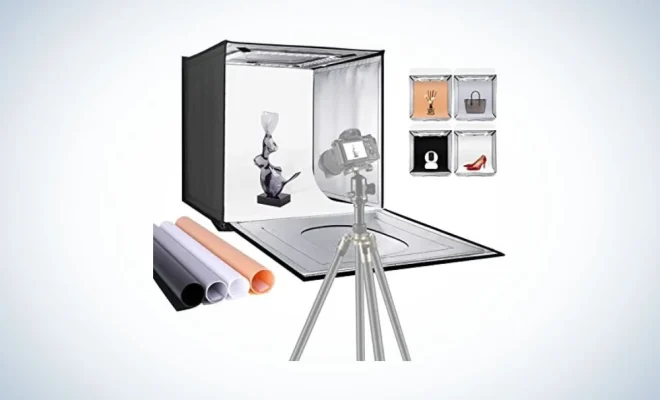 As photography continues to evolve, so does the technology that photographers use to capture and showcase their work. In recent years, photo light boxes have become a popular tool for creating high-quality product photos, social media posts, and professional advertisements. These photo light boxes offer a simple way to create bright, even lighting that brings out the best in every shot. Let's take a look at some of the best photo light boxes available in 2023.
1. Neewer Photo Studio Light Box – This top-rated photo light box comes with everything you need to create professional-grade product shots: a durable carrying case, three different backgrounds (black, white, and orange), and built-in LED lights that keep your products looking bright, crisp, and attractive.
2. AmazonBasics Portable Photo Studio – This budget-friendly option is a great choice for beginner photographers or anyone who wants a compact and lightweight setup for quick and easy product shots. The AmazonBasics photo light box sets up in minutes and comes with built-in LED lights and a removable diffusion panel.
3. Fovitec StudioPRO Light Tent – The Fovitec StudioPRO is a larger light box designed for shooting larger products or multiple items at once. This kit includes four backdrops, built-in LED lights with adjustable brightness, and a sturdy carrying case for easy storage and transportation.
4. LimoStudio Photo Box – The LimoStudio photo light box is a great choice for those who want a high-quality product without breaking the bank. This light box comes with built-in LED lights, a removable diffusion panel, and four different backdrops to choose from.
5. Emart 16" x 16" Table Top Photo Light Box – This compact and affordable option is perfect for taking professional-quality photos of small products or jewelry. The Emart photo light box features built-in LED lights, a removable diffusion panel, and a foldable design for easy storage.
No matter which photo light box you choose, having one on hand can provide a simple way to take your photography to the next level. A good photo light box can help you capture professional-quality images that stand out and grab attention, whether you're shooting for social media, e-commerce, or advertising purposes. Choose the best photo light box for your needs and start taking your shots to new heights.