Best Educational YouTube Channels for Kids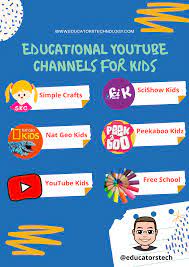 As educational technology evolves, more parents are turning to YouTube to supplement their children's early learning experiences. The video-sharing platform features various channels that cater to children, offering educational content that can help them improve their cognitive development, social skills, and gain knowledge. Here are some of the best educational YouTube channels for kids:
1. National Geographic Kids
National Geographic Kids is one of the most popular YouTube channels for children, thanks to its fascinating animal and environmental content. The channel features animal stories, science experiments, and interactive learning activities to help kids understand the natural world better. With National Geographic Kids, kids can learn about different cultures, explore history, and learn about geography in a fun and accessible way.
2. BrainPOP Jr.
BrainPOP Jr. is a fun educational platform that is tailored to meet the learning needs of younger children, specifically ages three to eight. The channel features engaging animated videos that cover topics such as science, math, reading, and social studies. BrainPOP Jr. videos are entertaining and engaging, making it easier for kids to retain information and learn new concepts.
3. TED-Ed
TED-Ed is a non-profit organization dedicated to spreading ideas and fostering learning through innovative ways. The channel offers engaging animated video lessons and interactive quizzes that cover a wide range of subjects, from literature and art to math and science. The videos are designed to help children learn and apply critical thinking skills.
4. Sesame Street
Sesame Street is an all-time classic and a global icon for children's education. The channel features entertaining children's shows that teach essential life skills, such as the importance of brushing teeth, kindness, and cooperation. Apart from being fun and engaging, Sesame Street helps kids develop social and emotional intelligence.
5. SciShow Kids
SciShow Kids is a channel that introduces young learners to the fascinating world of science, through fun and exciting experiments. The host of the channel, Jessi Knudsen, explains the science behind various phenomena, such as why our bodies need water, how plants grow, and how the human brain works, in a way that young children can understand.
In conclusion, YouTube is an excellent platform that provides a wide range of educational content for children. The channels discussed above are the best of the lot and will help parents and teachers to keep children engaged and learning throughout their formative years. The key is selecting channels with age-appropriate content and guidance, helping children develop lifelong learning habits.