Are You Really Getting Dolby Atmos Sound?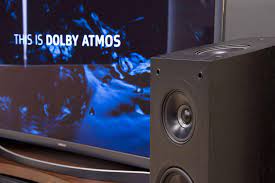 Dolby Atmos sound has become an increasingly popular term in the home theater industry. Many people are drawn to the idea of a more immersive audio experience that can transform the way they enjoy movies, TV shows, video games, and music. But are you really getting Dolby Atmos sound, or is it just a marketing gimmick?
First, let's define what Dolby Atmos actually is. It's an audio technology that was created by Dolby Laboratories in 2012. It allows soundtracks to be mixed in a way that provides more spatial information about where sounds are coming from, not just from left and right speakers but also from above and below. This creates a more three-dimensional sound experience and can make it feel like the listener is truly surrounded by the audio.
To achieve true Dolby Atmos sound, you need specific equipment. A Dolby Atmos compatible AV receiver or soundbar is essential, as well as speakers designed to handle Atmos audio. These speakers can be ceiling-mounted, or some soundbars have upward-facing speakers that bounce sound off the ceiling to create the illusion of overhead audio. Additionally, your media must have a Dolby Atmos soundtrack to take advantage of the technology.
However, just having Dolby Atmos equipment doesn't necessarily mean you're getting the full experience. Proper placement and calibration of the equipment are crucial for the best results. Ceiling-mounted speakers need to be placed correctly to optimize the immersive effect, and soundbars require precise placement to align the upward-facing speakers with the ceiling.
Another factor to consider is the quality of the source material. Not all movies, TV shows, and music have a Dolby Atmos soundtrack. Streaming services like Netflix and Amazon Prime Video now offer some content in Atmos, but not everything. In many cases, a standard Dolby Digital 5.1 or 7.1 soundtrack may be the only option.
So, are you really getting Dolby Atmos sound? The answer depends on several factors, including your equipment, the calibration, and the source material. If you have invested in a Dolby Atmos system and have properly calibrated it, coupled with source material that has an Atmos soundtrack, you should be experiencing a more immersive audio experience. However, if any of these elements are missing, the effect may not be as pronounced.
In conclusion, Dolby Atmos can enhance your home theater experience, but it's important to understand the requirements and limitations. If you're thinking of upgrading to Dolby Atmos sound, do your research and invest in quality equipment that will provide the best results.