Actually, Your Chromebook Can Run Microsoft Office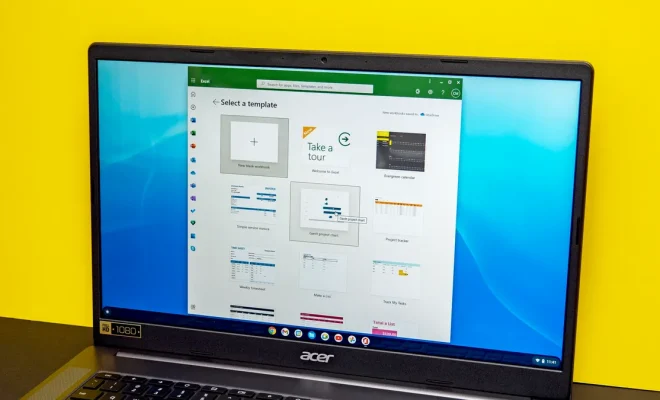 As a Chromebook user, one of the most common criticisms you may encounter is that it cannot run Microsoft Office, the productivity suite that has become a staple in most workplaces. However, this is not entirely true. In fact, Chromebooks can run Microsoft Office in various ways, providing users with access to the software they need for work or school.
Here are a few ways in which Chromebook users can run Microsoft Office:
1. Microsoft Office Online
First and foremost, Microsoft offers a free online version of its productivity suite, called Microsoft Office Online. This cloud-based version of Office allows users to access Word, Excel, PowerPoint, and other tools directly from their Chromebook's web browser.
All you need to do is sign in to your Microsoft account through your browser, and you can start using Office Online right away. The interface and functionality of these online apps are similar to their desktop counterparts, so you can create, edit, and share documents just as you would on a Windows or Mac computer.
One downside to using Office Online is that you need an internet connection to use it. However, since Chromebooks are designed to be used primarily online, this should not be a significant issue for most users.
2. Microsoft Office Android App
Chromebooks also support Android apps, which means you can download and install the Microsoft Office Android app. This app includes the essential apps in the Office suite, including Word, Excel, PowerPoint, and others.
However, not all Chromebooks are compatible with Android apps, so you need to check that your device can run them. You can do this by going to Settings > Google Play Store and checking if it is enabled.
Once you have downloaded the apps, you can access them like any other Android app on your Chromebook. The Office Android app is optimized for touch-screen devices, so if your Chromebook has a touchscreen, you can use your fingers or a stylus to work on your documents.
One downside to using the Office Android app is that it may not work as well as the desktop version or Office Online. Additionally, since it is designed for phones and tablets, it may not support all the advanced features of the desktop version. Nevertheless, it is a decent alternative if you need to work on Office documents on your Chromebook.
3. Microsoft Office via Virtual Desktop
Another way to run Microsoft Office on your Chromebook is by connecting to a virtual desktop that has Office installed. This requires a remote desktop solution like Virtual Desktop or Citrix Workspace, which allows you to connect to another computer and access its programs and files.
To use this method, you need to have access to a computer or server that has Office installed and configured to allow remote access. You will also need a fast and stable internet connection to ensure a smooth connection.
Once you have connected to the remote desktop, you can use Office as you would on a Windows PC. However, this method can be more cumbersome than using Office directly on your Chromebook, and it may not work well if your internet connection is slow or unstable.
Conclusion
As you can see, Chromebooks can run Microsoft Office, and there are several ways to do it. Whether you use Office Online, the Android app, or a virtual desktop, you can create, edit, and collaborate on Office documents on your Chromebook. This versatility makes Chromebooks a viable option for those who need to use Microsoft Office for work, school, or personal use.