10 Makerspace Activities for the K-12 Classroom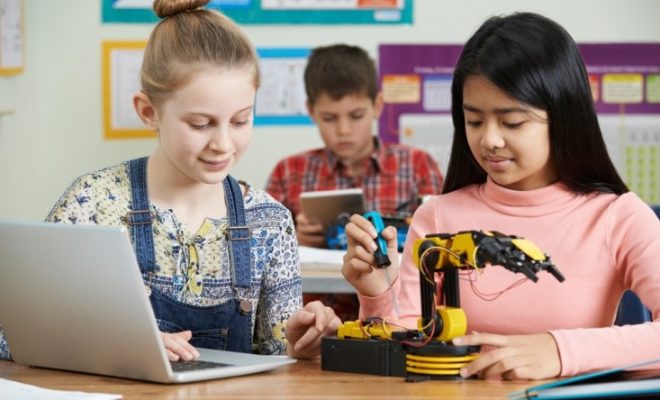 Makerspace activities are taking over classrooms and turning students and their teachers into makers. Makerspaces encourage hands-on student-driven learning, experimentation, and collaboration.
To help you see how possible it is to incorporate makerspace activities into your classroom, here are ten makerspace activities that can fit any grade level and most budgets.
Upcycling Activities
Upcycling is using discarded materials to make something new that is even better than the original. Students simply look for discarded items and use their imaginations to make something new. For example, many teachers have their students work on recycled book crafts, such as using books (or book pages) with broken spines to make beautiful projects.
Construction Activities
Students love to build – no matter their age. Even if your students only have paper and tape, you can encourage them to construct something that will hold weight. The classics, such as building towers or bridges, still fit, but you can also have your students use items (such as marshmallows, jelly beans, toothpicks, etc.) to construct forts, dams, or catapults.
Floating Activities
Working in teams, have your students design and build a boat of cardboard and then host a cardboard regatta. Or, have your students design and build a boat out of aluminum foil to see whose boat can hold the most pennies before it sinks.
Musical Activities
Easy to adjust for the grade level and student ability, musical makerspace activities are fun for everyone. Little ones will have fun making simple instruments out of makerspace supplies, whereas older students will enjoy building more complex instruments or using computer apps to make music.
Circuit Activities
There are several circuit activities that can be modified for your class needs. For example, elementary students will have a blast making squishy circuits out of Play-Doh, and middle grade students will be fascinated learning how to make paper LED circuits.
Coding Activities
If your school has the technology available, a great way to introduce students to coding is to participate in the annual Hour of Code. This program uses self-guided activities to teach students the basics.
Cardboard Activities
With cardboard, scissors, and tape, your students can compete in the Cardboard Challenge. You make the rules simple (such the time limit and the amount of cardboard) and you sit back and watch what creative cardboard creations your students design.
Duct Tape Activities
Kids love duct tape, so if you can find opportunities to include it in your makerspace, you will get results. Give students the freedom to use duct tape to come up with their own inventions or guide them with crafts such as duct tape bow ties or wallets.
Robot Activities
Robotic lessons are fun and can be modified for the grade level you teach. In particular, LEGO Education makerspace has developed maker activities that incorporate robotics starting with simple machines and moving to more advanced activities.
Bloxels Activities
Students interested in designing video games will love the chance to play (and learn) with Bloxels. This activity allows students to use blocks and a mobile device to build their own video games.