What's the difference between ICR and OCR technologies?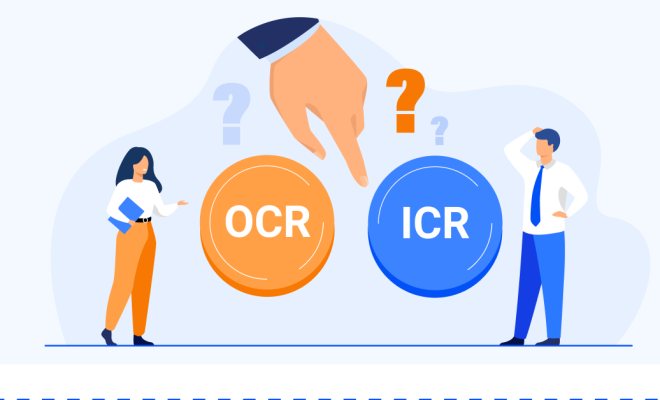 ICR (Intelligent Character Recognition) and OCR (Optical Character Recognition) are two technologies used for text recognition purposes. Both are useful for converting scanned or handwritten text into digital, machine-readable format. However, there are important differences between these two technologies.
The main difference between ICR and OCR is the type of text they are designed to recognize. OCR is designed to recognize printed text, while ICR is designed to recognize handwritten text. OCR can easily recognize text from printed documents with standard fonts and layouts, such as books, magazines, newspapers, and even some types of forms. ICR, on the other hand, is more complex because recognizing handwriting is more challenging due to different styles, shapes, and sizes of letters.
Another significant difference between OCR and ICR is the level of accuracy they provide. OCR technology can achieve a very high level of accuracy, up to 99%, when recognizing printed text. However, ICR technology may not be as accurate as OCR technology, especially when it comes to recognition of cursive or less legible handwriting. Moreover, handwriting recognition accuracy can vary depending on the writer's style and quality of the writing.
ICR technology is more advanced than OCR because it can recognize not only printed or handwritten text but also the context of the text. This means that ICR technology can analyze and interpret not only individual handwritten letters but also entire words or even sentences. OCR technology, on the other hand, only recognizes individual characters, so it cannot understand the context of the text.
Finally, ICR and OCR technologies differ in terms of their applications. OCR is typically used for document scanning and digitization purposes, such as scanning and archiving books or converting paper-based documents into digital format for further processing or editing. ICR, on the other hand, is more commonly used for recognizing and processing handwritten forms, surveys, and other types of documents that are likely to contain handwritten text.