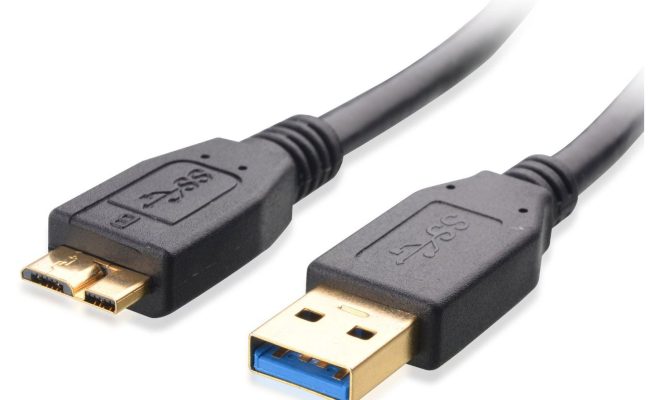 USB 3.0, also known as SuperSpeed USB, is the third major version of the Universal Serial Bus standard for interfacing computers and electronic devices. It was introduced in November 2008 and offers significant improvements over its predecessors, USB 1.0/1.1 and USB 2.0, in terms of speed and power management.
The main advantage of USB 3.0 is its increased data transfer rate, which is up to 5 Gbps, making it 10 times faster than USB 2.0's 480 Mbps. This high-speed transfer allows for quicker file transfers, faster backup times, and smooth video and audio streaming, among other things. For example, a 25GB high-definition movie can be transferred in just 70 seconds using USB 3.0, whereas it would take approximately 14 minutes with USB 2.0.
Another significant improvement of USB 3.0 is its enhanced power management. It allows for more efficient power usage with devices that require more power, such as external hard drives, while also cutting down on energy consumption for lower-powered devices. USB 3.0 can also charge devices faster than previous versions, with up to 900mA of power compared to 500mA in USB 2.0.
USB 3.0 ports and cables are backwards compatible with USB 2.0 devices, which means that the new technology will still work with older devices. However, the transfer speed will be limited to the older standard's capacity. Conversely, USB 2.0 devices can be connected to a USB 3.0 port, but they won't benefit from the faster transfer rate.
As with every new technology, there are always some drawbacks to consider. One of the main disadvantages of USB 3.0 is that it generates more heat than USB 2.0, which can cause operating temperatures to soar quickly, particularly when using the higher-powered devices for extended periods. However, this can be mitigated by investing in high-quality cable and technology components that are designed to enable better air circulation, manage voltage effectively, reduce electromagnetic interference, and more.
In conclusion, USB 3.0 is an excellent example of how technology continues to mature and improve over time. With its increased data transfer rate, improved power management, and backward compatibility, it's quickly becoming the industry standard for connecting electronic devices. As prices continue to drop and more companies across various industries adopt the technology, it's likely that USB 3.0 will become even more ubiquitous in the years to come.