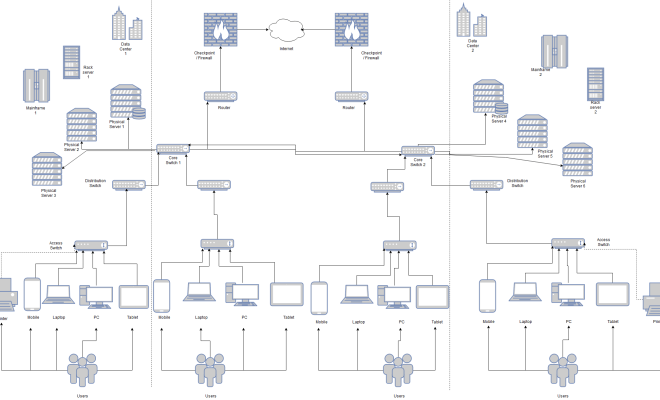 Every organization has a complex network of interconnected devices and systems that are critical for everyday operations. Network mapping is a process of creating a visual representation of the network topology, which includes all the devices, servers, routers, and switches that are connected to it. It is an essential tool for network administrators to understand and monitor the network's performance, identify security vulnerabilities and manage network assets efficiently.
Network mapping tools are designed to scan the network and collect information about its devices and their configurations. Some of the critical data collected during network mapping includes IP and MAC addresses, device types, operating systems, software applications, and network protocols. This information is then used to create comprehensive network maps that highlight the connectivity between different devices and systems within the network.
Network mapping tools provide several benefits to organizations, including:
1. Improved Network Visibility
Having a visual representation of the network topology helps administrators to understand how different devices are connected and how data flows through the network. This visibility is critical when it comes to managing the network, identifying performance issues, and troubleshooting problems.
2. Enhanced Security
Network mapping tools help administrators to identify potential security threats and vulnerabilities within the network. By analyzing the network map, administrators can identify devices that are exposed to the public internet, identify rogue devices, and ensure that all devices are running updated security software.
3. Efficient Asset Management
Network mapping is essential when it comes to managing network assets. Administrators can use these maps to identify unused devices, isolate outdated software or hardware, and optimize network resources more effectively. This can help to reduce costs and improve the overall efficiency of the network.
4. Streamlined Network Documentation
Network mapping tools create detailed documentation that includes all the configurations of each device, which can be used to troubleshoot problems, plan upgrades, and maintain the network. This documentation ensures that all crucial network information is stored in one centralized location, making it easier for administrators to manage the network.
In conclusion, network mapping is an essential tool for organizations looking to improve the security, efficiency, and overall management of their network. By providing comprehensive visibility, identifying potential security threats, optimizing network resources, and streamlining documentation, network mapping tools are critical for organizations of all sizes. In today's rapidly changing technology landscape, it is essential to stay on top of network performance and security, and network mapping is an excellent place to start.