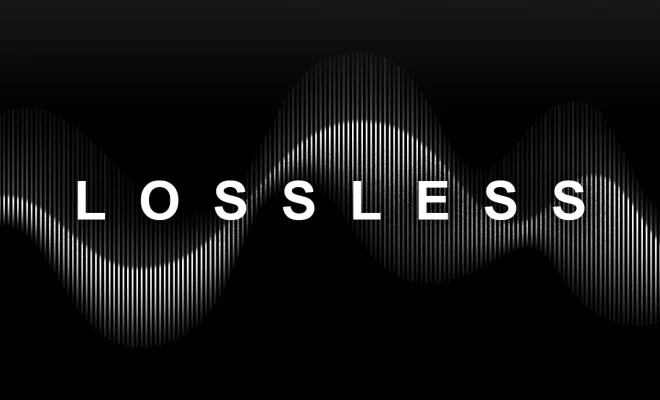 As technology continues to evolve, the demand for high-quality audio has become increasingly important, especially for audiophiles who want to experience music in its purest form. With the emergence of lossless audio, music enthusiasts can now enjoy the highest level of audio quality available.
So, what is lossless audio?
Lossless audio is a type of audio compression that retains all the original audio data of a song during the compression process. This means that the audio quality, dynamics, and clarity of the music remain unchanged, while the file size is reduced to a more manageable size for storage and playback.
Lossless audio formats include FLAC, ALAC, and WAV. These formats are capable of reproducing audio with a bit-for-bit accuracy, meaning that every detail, from the instruments to the vocals, is preserved.
Unlike lossy audio compression methods such as MP3 or AAC, lossless audio does not discard audio data. Instead, it uses an algorithm to compress the audio files without sacrificing audio quality. With lossy audio, the algorithm removes certain audio data, which can result in a loss of audio quality.
Why Choose Lossless Audio?
There are several benefits of choosing lossless audio:
Improved Audio Quality: Lossless audio offers the highest audio quality possible, without sacrificing any details or dynamics.
Compatibility with High-End Audio Equipment: Lossless audio is compatible with high-end audio equipment that can fully reproduce the audio data. This includes DACs (digital-to-analog converters), amplifiers, and speakers, which can deliver a superior listening experience.
No Audio Data Loss: As mentioned earlier, lossless audio compression retains all the original audio data, ensuring that nothing is lost during the compression process.
Consistent Audio Quality: With lossless audio, the audio quality remains consistent, regardless of the device or platform on which it is played. This means that regardless of whether you are listening to music on your phone or a high-end audio system, the quality remains the same.
Easy to Convert: Lossless audio files can be converted to other formats without any loss of audio quality. This means that you can convert your lossless audio files to any other format, such as MP3, without sacrificing any audio quality.
Conclusion
In conclusion, lossless audio offers the highest level of audio quality available. Although lossless audio files are larger in size than lossy audio files, the superior sound quality makes it well worth the storage space. So, if you are an audiophile or just appreciate high-quality sound, lossless audio is definitely something you should consider.