What Is GeForce Experience? Key Features and Benefits Explained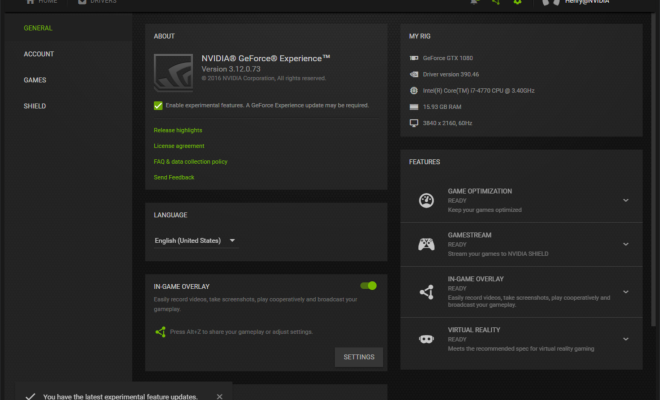 GeForce Experience is a software application developed by NVIDIA, a leading provider of graphics cards and other computer-related products. It is designed to help gamers optimize their graphics settings, capture gameplay footage, and keep their drivers up-to-date.
Key Features:
– Game Optimization: GeForce Experience automatically detects the games installed on your computer and recommends the best graphics settings for optimal performance. This includes adjusting graphics quality, resolution, and other settings to help you get the best possible gaming experience.
– Instant Replay: This feature enables gamers to capture footage of their gameplay. It records the last 20-30 seconds of gameplay so you can easily capture key moments without having to constantly press a button. It's also possible to save longer clips of up to 20 minutes.
– Broadcasting: Broadcasting your gameplay is easy with GeForce Experience. You can stream to various platforms such as Twitch, YouTube, or Facebook with just a few clicks.
– Driver Updates: GeForce Experience simplifies the process of updating NVIDIA drivers, ensuring that you always have the latest version installed. Keeping your drivers up-to-date helps to improve your gaming performance and prevent compatibility issues.
Benefits:
1. Improved Gaming Performance
The game optimization feature in GeForce Experience helps gamers to achieve optimal graphics settings with ease. This can improve gaming performance significantly resulting in faster loading times and smoother gameplay.
2. Effortless Gameplay Recording
The instant replay feature is a great tool for capturing gaming moments, allowing you to highlight and share your best moments with friends and followers on social media.
3. Hassle-Free Driver Updates
GeForce Experience takes care of the driver updates for you, ensuring that you're always running the latest version. This eliminates the need for time-consuming manual updates, even more so since it only alerts you to essential software improvements, ensuring you aren't overwhelmed by too many updates.
4. Streamlined Broadcasting
GeForce Experience makes it super simple to start broadcasting your gameplay to your desired platform, making it easier than ever to share your experiences with others.