What Is Bluetooth? The Ultimate Guide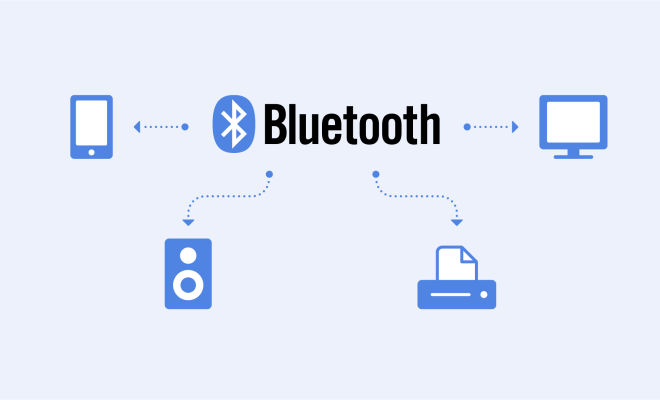 Bluetooth is a wireless technology that allows electronic devices to communicate with each other over short distances. It was originally developed in 1994 by a group of tech companies, including Ericsson, IBM, Intel, and Nokia, as a way to eliminate the need for cables and cords in data transfer between devices. Today, Bluetooth has evolved into a powerful and versatile tool that is used in a wide range of applications, from wireless headphones and speakers to automotive and medical devices.
How Does Bluetooth Work?
At its core, Bluetooth uses short-range radio waves to transmit data between two devices. When two Bluetooth-enabled devices come within range of each other, they automatically connect and establish a communication channel. This channel allows for the transfer of data, such as audio or other types of files, between the devices. Typically, Bluetooth has a range of up to 30 feet, although this can vary depending on the devices involved and the environment they are in.
One of the key features of Bluetooth technology is the ability to detect and connect with nearby devices automatically. This is made possible through a process known as pairing. Pairing involves a one-time setup process in which two Bluetooth-enabled devices are linked together. After the initial pairing, the devices will automatically recognize each other and connect whenever they come within range, without the need for any further setup or input from the user.
Bluetooth Versions and Features
Over the years, Bluetooth technology has evolved and improved with each new version that has been released. The earliest versions of Bluetooth were limited in terms of data transfer speed and range. However, newer versions of Bluetooth have improved upon these limitations and added new features to enhance functionality.
Here are the different versions of Bluetooth that have been released:
– Bluetooth 1.0: This was the very first version of Bluetooth, released in 1999. It had a maximum data transfer rate of 1 Mbps and a range of around 30 feet.
– Bluetooth 2.0: This version was released in 2004 with improvements in terms of data transfer speed and security.
– Bluetooth 3.0: Released in 2009, Bluetooth 3.0 introduced faster data transfer rates and lower power consumption.
– Bluetooth 4.0: This version was released in 2010 and introduced the Low Energy (LE) feature, which drastically reduced power consumption and increased the range of Bluetooth devices.
– Bluetooth 4.1, 4.2, and 5.0: These newer versions of Bluetooth have introduced various improvements and features, including better data transfer speeds, improved security, and enhanced compatibility with IoT (Internet of Things) devices.
Advantages and Applications of Bluetooth
There are many advantages to using Bluetooth technology, some of which include:
– Convenience: Bluetooth eliminates the need for cords and cables, making it easy and convenient to transfer data between devices.
– Compatibility: Bluetooth is widely supported across a wide range of devices, making it easy to connect different types of devices together.
– Low power consumption: The Low Energy (LE) feature introduced in Bluetooth 4.0 drastically reduces power consumption, making it ideal for use with portable devices like smartphones, smartwatches, and fitness trackers.
– Cost-effective: Bluetooth is a cost-effective wireless technology, as it does not require any additional hardware or equipment to set up beyond the devices themselves.
Bluetooth technology has a wide range of applications across different industries. Some of the most popular applications include:
– Wireless audio: Bluetooth headphones and speakers have become incredibly popular in recent years, allowing users to enjoy high-quality audio without being tethered to their devices.
– Automotive: Bluetooth is commonly used in cars to enable hands-free calling, audio streaming, and other features that make it easier and safer to use your phone while driving.
– Healthcare: Bluetooth is used in a variety of medical devices, from blood glucose meters to heart rate monitors, enabling health professionals to remotely monitor patient data and provide care more efficiently.
– IoT: Bluetooth is also commonly used in the Internet of Things (IoT), allowing devices to communicate and share data with each other wirelessly.
Conclusion
Bluetooth technology has revolutionized the way we interact with our devices, allowing for wireless communication and data transfer between devices that were previously limited by cords and cables. With the release of newer versions of Bluetooth, this wireless technology has only become more powerful and versatile, enabling exciting new applications across a wide range of industries. Whether you're streaming music or monitoring your health, Bluetooth has become an essential component of our daily lives.