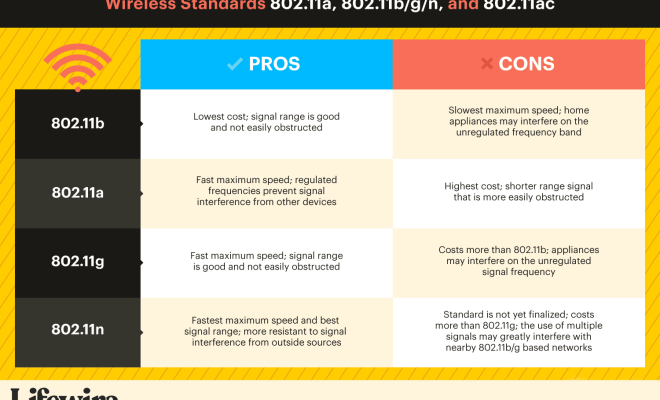 802.11g Wi-Fi is a type of wireless networking technology that was introduced in 2003 as an amendment to the existing 802.11b standard. It brought significant improvements in terms of data transfer rates while maintaining backward compatibility with 802.11b devices.
One of the key features of 802.11g Wi-Fi is its maximum theoretical data transfer rate of 54Mbps. This is achieved by utilizing a wider bandwidth of 20MHz as compared to the 802.11b standard which used only 11MHz. Moreover, 802.11g uses orthogonal frequency-division multiplexing (OFDM) which enables faster and more reliable communication between devices.
Another advantage of 802.11g Wi-Fi is its ability to operate in both the 2.4GHz and 5GHz frequency bands. This helps to avoid interference from other devices that operate on the same frequency, such as cordless phones and microwaves. It also provides more options for users to choose a less crowded channel for their Wi-Fi network, thereby improving their overall network performance.
Another feature of 802.11g Wi-Fi is its support for multiple input multiple output (MIMO) technology. This enables devices to use multiple antennas to transmit and receive multiple data streams simultaneously, resulting in better coverage and higher data transfer rates.
802.11g Wi-Fi has been widely adopted since its introduction due to its significant improvements in speed and reliability over the 802.11b standard. Its backward compatibility with 802.11b devices also made it an easy upgrade path for users who already had existing Wi-Fi networks.
In conclusion, 802.11g Wi-Fi is a reliable and widely used wireless networking technology that provides fast data transfer rates and improved performance over its predecessor, 802.11b. Its ability to operate in multiple frequency bands and support for MIMO technology makes it suitable for various applications and requirements. As newer Wi-Fi standards such as 802.11n and 802.11ac continue to emerge, it still remains a viable choice for those looking to set up a Wi-Fi network or upgrade from an older one.