Wells Fargo Active Cash Card: Earn 2% Cash Rewards on Your Purchases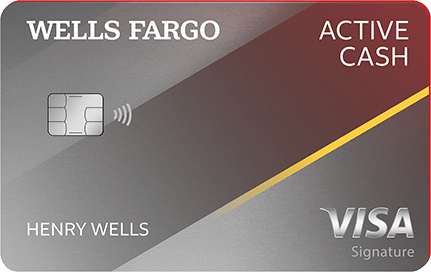 Introduction:
Are you looking for a way to make the most out of your everyday spending? The Wells Fargo Active Cash℠ Card might be the perfect solution! This powerful credit card grants you 2% cash rewards on all of your purchases making it an excellent addition to your financial toolbox. In this article, we'll dive into the features and benefits of the Wells Fargo Active Cash Card and how you can take advantage of its generous rewards.
Features and Benefits
1. No Category Restrictions: Unlike other credit cards that limit cash rewards to specific categories such as dining or travel, the Wells Fargo Active Cash Card provides flat 2% cash rewards across all types of purchases. This gives users the utmost flexibility when it comes to managing their spending habits.
2. $200 Bonus Offer: When you open a new account and meet the spend requirement within the first three months, you can earn a one-time cash bonus of $200. This makes signing up for the Wells Fargo Active Cash Card even more enticing.
3. No Annual Fee: The last thing anyone wants is to dish out additional fees on a credit card. Luckily, the Wells Fargo Active Cash Card charges no annual fee, helping cardholders save money and keep their overall spending in check.
4. 0% Intro APR: New cardholders also receive an introductory Annual Percentage Rate (APR) of 0% for the first 15 months on purchases and qualifying balance transfers made within the first 120 days. This gives users ample time to pay off balances without accruing additional interest charges.
5. Protections & Security Features: As a user of the Wells Fargo Active Cash Card, you'll have access to a suite of security measures designed to protect against fraud and identity theft. This includes 24/7 Fraud Monitoring, Cellular Telephone Protection, and Zero Liability protection for unauthorized transactions.
6. Additional Perks: This card also offers a variety of value-added benefits such as complimentary Visa Signature® concierge service, emergency card replacement, and an auto rental collision damage waiver.
How to Earn and Redeem Cash Rewards:
Earning cash rewards with the Wells Fargo Active Cash Card is simple: just make purchases using your card. You'll receive 2% cash rewards on every dollar spent. There are no limits on the amount you can earn, and rewards do not expire.
Redeeming your earned cash rewards is a breeze, thanks to the Wells Fargo online portal or mobile app. You can redeem your cash rewards as a statement credit, direct deposit into a qualifying Wells Fargo account, or redeem for gift cards and other merchandise.
Conclusion:
The Wells Fargo Active Cash Card represents an attractive option for those seeking a straightforward way to save money on their everyday expenses. With 2% cash rewards on all purchases, no annual fees, and an array of additional perks, this card provides great value without any hassle. If you're in the market for a new credit card that maximizes your spending power while providing top-notch security features and benefits, the Wells Fargo Active Cash Card is worth considering.