VGA vs. HDMI: What's the Difference?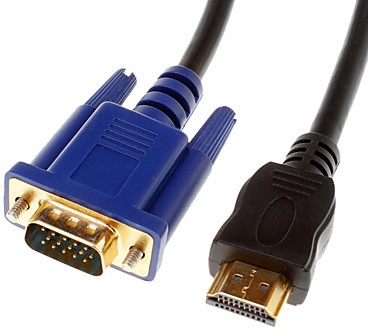 When it comes to connecting your computer to a display, you have a few different options. Two of the most common types of connections are VGA and HDMI. While they both serve the same basic purpose, there are some key differences between these two types of connectors.
First, let's talk about VGA. VGA stands for Video Graphics Array, and it's the older of the two technologies. VGA connections have been around since the 1980s and are still widely used today. They use an analog signal to transmit video data, which means that the image can sometimes appear slightly fuzzy or distorted. However, VGA cables are relatively cheap and easy to find, which makes them a popular choice for older monitors and projectors.
HDMI, on the other hand, stands for High-Definition Multimedia Interface. It's a newer technology that was introduced in the early 2000s. HDMI cables use a digital signal to transmit video data, which means that the image is much clearer and sharper than with VGA. It also allows for more advanced features like audio and video transmission over the same cable, as well as support for higher resolutions and refresh rates.
One of the biggest advantages of HDMI is that it supports HDCP, which is a copy protection system designed to prevent piracy. This is important if you're watching movies or other copyrighted content, as it ensures that the content is being transmitted securely and can't be intercepted by third parties.
Another advantage of HDMI is that it supports audio transmission as well. With a VGA connection, you'll need a separate cable for audio, which can be inconvenient. But with HDMI, all of the audio and video data is transmitted over a single cable, which makes it much easier to set up and use.
So which one is better: VGA or HDMI? The answer depends on your specific needs. If you're using an older monitor or projector that only has VGA inputs, then VGA is your only option. But if you're using a newer display that supports HDMI, then HDMI is often the better choice due to its superior image quality and additional features.
Overall, both VGA and HDMI have their strengths and weaknesses. VGA is a tried-and-true technology that's reliable and easy to find, but it has its limitations in terms of image quality and advanced features. HDMI is a newer technology that offers superior image quality and a range of advanced features, but it can be more expensive and may not be compatible with older displays. When considering which one to use, it's important to take into account your specific needs and the capabilities of your display.