Using Infographic Creation Tools in the Classroom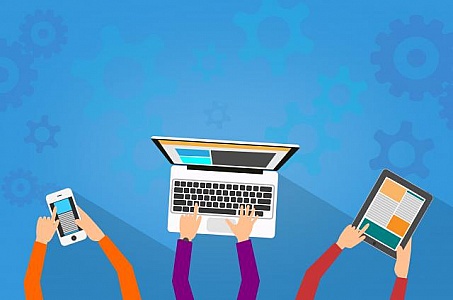 The next time you need to evaluate what students have learned about a subject, ask them to create an infographic.  When students take the information they have learned and compile it into a visual format, it demonstrates mastery of the content. Infographics stimulate visual learning.  Encouraging students to create and share their infographics in the classroom takes their learning to the next level. Teachers need to provide students with infographic creation tools that provide students with a way to create infographics easily, to allow them to focus on the content rather than mastering a new technology.
When evaluating infographic tools teachers should look for tools that are easy to use but are also rich with functionality.  These tools should also make it easy to print and share the infographics that students create. Infographic tools that allow students to compile their data into visually interesting charts and graphs are also a plus. Here are a few tools that we have evaluated that offer these important features.
Piktochart is an infographic creator that offers a free online version that will allow students to build visually interesting infographics by dragging and dropping elements onto templates.  Charts and maps can also be easily added to infographics.  These elements can be linked to Google spreadsheets and Survey Monkey accounts to display real-time changes in data.  Infographics created in Piktochart can be downloaded into a variety of high-resolution image formats including JPEG, PNG, and PDF file types.  Piktochart also offers educational pricing that allows increasing the maximum file size for uploaded images, access to all templates as well as other features not available in the free version.
Vennage offers many features that will allow students to apply their style to create infographics that are unique.  Vennage also offers drag and drop features to add the many pre-defined elements available on Vennage to an infographic.  Vennage also offers features that allow infographics to be shared on social media networks, including Pinterest, Twitter, Facebook and LinkedIn.  Infographics created in Vennage can also be downloaded as image or pdf files.  Infographics can also easily be embedded into websites. The educational version of Vennage even allows teachers to create an account for their class and students.  This allows students to easily share their infographics with their teachers or their entire class.
The vast number of templates offered by Easel.ly makes it a great tool for teachers to consider using in their classroom. There are thousands of templates to choose from.  Students begin creating their infographic by choosing a template. Then editing the template is made simple by using an easy-to-use menu bar to drag and drop elements onto the infographic. Upgrading to an Easel.ly Pro account for only $3 per month allows users to access over 600,000 images, over 50 fonts. The Pro version even allows users to upload their fonts and graphic files. Infographics created in Easel.ly can be download in high or low-resolution JPEG files or PDFs.  Easel.ly infographics can also be shared on websites or with groups created within Easel.ly.
Teachers can implement infographics into any subject.  Imagine a history assignment that asks students to compile data about World War II into an infographic. How about a science project that requires students to compile data from an experiment into a visual format?  Infographic creators like the ones listed in this article allow students to create these projects in a way that focuses on the content, rather than the functionality of the tool. Teachers can easily evaluate these tools to find the right tool to use in their classroom.